Mug Challenge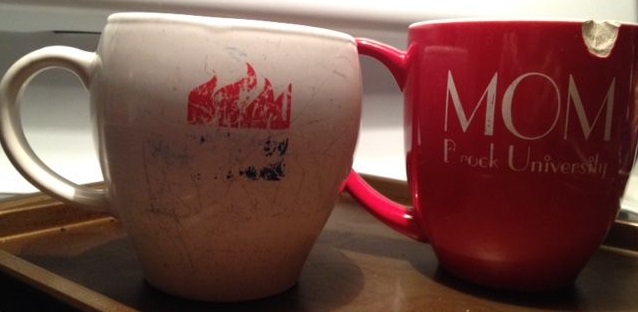 Orangeville, Ontario
November 30, 2016 9:24pm CST
I didn't want to participate in this. You can see by the picture why. These mugs are my two favourite mugs. The one on the left is a big book publisher's mug I won off their Facebook page. You see it is well worn, faded and scratched. There is writing on the back but I couldn't tell you what it says.

The mug on the right is from my daughter's university. When she first gave it to me, my older daughter put it in the dishwasher and the print came right off. So the younger took it back to the university store and they gave her another one saying it shouldn't have done that. Regardless, I won't put it in the dishwasher. But, as you can see, there is a big chip out of it. But I'm not parting with it. I can avoid the chip when I drink from it. I am a proud Mom of a Brock University student. So those are my two go-to mugs. Not nearly as exciting as others I've seen on here.

5 responses

• United States
1 Dec 16
I think they are great. I'm a Mom like you and we are always using items from our daughters. I'm sorry to hear the print came off when it was placed in the dishwasher. I didn't do the mug photograph because no favorite, as I would have a tall stack with various awards won by both daughters and ones given to me over the years. I collect mugs, so this is a lot harder for me. I have boxes of mugs given over the years and that doesn't include my colleges went to three or all of the colleges daughters attended now or in the past. My youngest attended three colleges like me.

• Orangeville, Ontario
1 Dec 16
@Fishmomma
@montero
I like the Harper Collins mug particularly because of the size and shape. I don't know what it is but it's perfect for me and my morning tea.



• Bunbury, Australia
1 Dec 16
As long as they mean something to you that's all that matters.