Asian invaders

France
December 10, 2016 12:37pm CST
These animals are annoying. I could not open my windows during the summer because they were invading my home, and I am receiving now a letter from a mayor of a rural community asking me to destroy a nest in a tree as soon as possible... with a slow delivery stamp

. I am speaking of Asian wasps. They started to invade France 15 years ago, and they are everywhere now, including in the center of Paris. The mayor gave me the land-register reference, and I had a look online to find what it was. It is a small poplar landing occupying approximately 1 hectare. I know this piece of wood, these trees are 20 or more meters high, and it will be very difficult to remove a wasp nest if it is not near the path and high in a tree like they usually are, not telling that the ground is wet and was flooded last time I went there

. Wait a minute... I am learning about Asian wasps, and I read from several sources that it is useless to remove an Asian wasps nest from November to April, because they die during winter in France due to the cold weather and are never reoccupying the nest the year after. Another interesting news is that they build their new nests far away from the previous one

. I would be responsible if someone was bitten, but they are no more active and they will not bite anybody during winter, so my best option is to wait to see if the nest will be still occupied next spring. I hope that this winter will be very cold and I wish them to freeze alive. A mayor can tell me politely to destroy it, but he cannot order or force me to do it

. How can I tell politely to this man something that the actual president of the Philippines would tell a bit more crudely



? Should I ignore his letter as it is together not a registered letter and legally invalid ? Should I teach him a natural science class about Asian wasps ? Should I tell him that I take dispositions to do it next spring... if they are still there ? Should I tell him to invite the local hunters to exercise their talents on this nest ? I would like to be as diplomatic as possible. How would you deal with that ?
11 responses



• United States
16 Dec 16
@topffer
I'd find a way to get the nest. Box it up and then mail it to him COD(Collect On Delivery). The note attached would say: In compliance with your request I have destroyed the nest and as evidence I am giving it to you. They do not survive the winter and do not nest in the same place. As a result you now have the honor of removing the nest from its new home (yours)! LOL







• France
16 Dec 16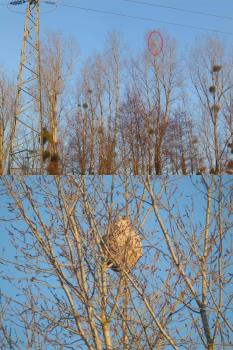 It would be a good gag, but the problem is to get the nest : it is at 90 feet from the ground

. I post pictures of the tree and the nest that I took 2 days ago.


• France
10 Dec 16
I will try to explain and I hope that he will understand... It did not even took 15 years : the first ones came with some potteries from China in South France in 2004. They have no predator in France (in China the bees are attacking them, but in France they eat the bees

). I am quite sure that these wasps will also like springs in Germany

.

• Bunbury, Australia
12 Dec 16
I think I would explain what will happen to the wasp and how it will die naturally and ask if he minds if you do nothing till next year. I gather you own the land where the nest has been found.

• France
12 Dec 16
Yes, they should have better chosen another land but they decided to squat this one without asking for my consent

. For what I read they like to install their nests in a poplar, and it is a small poplar planting. I have already prepared a letter telling that, but I can try to be more pedagogical than administrative

.

• Bunbury, Australia
12 Dec 16
@topffer
Good idea. You need to be a bit diplomatic. So it's not only people who are squatting. I suppose I could say that about the rabbits in my garden. They don't seem keen to vacate either.


• Philippines
10 Dec 16
I would arrange a dialogue with the mayor or who ever was incharge of sending you the summon and explain politely my side as well as my knowledge about the life cycle of these insects and argue my case without intimidating him or showing a hint that I know more than he does

and pray no one gets bitten till such time, I would now concentrate on the war front Now on the war front where the actual complaint might have originated, I would take down that nest ASAP at all cost, no ifs, no buts, just take it off, better those concerned citizens don't see anything, no nest, no case,.

• France
10 Dec 16
I have to go there to localize it, but if it is at the top of a poplar in the middle of the wood, this nest will cost me about 500 Euros to get it down, a lot more than the value of the tree. I would pay if we were in summer and if it was occupied, because I would engage my civil liability if somebody was bitten. The nests are abandoned during October and they usually fall down during winter. If it is still in the tree in February, I think that I will ask to a hunter to shoot it down... I prefer to write than to meet him, because words are administratively worth nothing when they are not written. He has no rights to order me what I should do on my lands in this case, and he knows it perfectly : his letter has no registration number, which means that it has not been placed in the official correspondence of the community.


• Roseburg, Oregon
10 Dec 16
You should remove the nest as soon as you can in case it is used again.

• Germany
10 Dec 16
@topffer
We have people in our town - nature protectionists - one can call to remove the nests of insects like for example, hornets. If I got such a senseless letter, I'd go to the boss of this group and would ask him to enlighten the mayor. Have you got a local newspaper in which you could write about the topic? Or ask a journalist to come to you and interview you. Journalists of small local newspapers are often glad if they find a topic.

• France
10 Dec 16
@MALUSE
Asian wasps are considered invasive and harmful, so I doubt that a nature protectionist would be well received, but I will look if there is not something official telling it somewhere. The département destroys them between June and mid-October ; they perhaps might enlighten him why they do not destroy them the rest of the year

. I do not like journalists that much. One of them called me on Thursday, because he had learned that I won last July an administrative trial against a small town. I won on both form and content and the court canceled their urban plan completely. They need about 4 years to prepare another one, and I was expecting the mayor to insult me in the media ; he did not said a word, and I did not told anything, but I knew that a journalist would find it soon or later, and this one had already asked a copy of the decision to the court...

• Philippines
12 Dec 16
Well, you don't have to imitate our President , in telling the mayor in a crude manner .

Anyway , it would be best if you talk to the mayor and make him understand what you have researched about those Asian wasps , so he cannot force you to eliminate them . Besides , it is dangerous to be bitten by a wasp .


• France
12 Dec 16
It is not bad to let off steam sometimes, but your President does it a bit too much

. I have to go there to see where it is in the wood, and I will write to the mayor : it is far from my home, mayors are people difficult to meet, and administratively words are worth nothing when they are not written. Wasps are dangerous, but a nest lasts only 1 year, and it is abandoned now. There is at best a few males inside, waiting to die. There is an advantage to be a male in a wasp nest in summer, as they do not work, but the big inconvenient is that they are abandoned later by the females

.

• Philippines
13 Dec 16
@topffer
I must agree that our President does it a bit too much .

As to the male wasps , their existence is just for propagating for the females . After that they are useless already .


• United States
16 Dec 16
If they die in the winter, wait until just after and then have the nest taken down and thrown out.

• France
16 Dec 16
It should fall by itself during the winter because of bad weather and no wasps workers to repair the damages. I have been there to see where it is. It is at the top of a 30 m high poplar, in the middle of the wood : it can only fall on my land, not on the path, there is nothing to do.

• India
11 Dec 16
I sometimes wonder why these wasps or any other insects cannot leave us alone and vice versa

• France
11 Dec 16
Wasps are relatively pacific with humans, and they bite only when they think that they are in danger, but I fear these big wasps. A bite of an Asian wasp might be fatal, and I am happy that nothing bad happened when this nest was in activity. I would have been even more happy if they had chosen another wood than mine to settle.

• Charlotte, North Carolina
10 Dec 16
What do you really think you should do? What is best for you?

• United States
10 Dec 16
Well, I would teach him a natural sciences lesson about Asian wasps and also tell him that if the wasps are active in the spring, you will take care of the matter. You are well-versed in being diplomatic, so I am sure your telling will be quite informational, helpful and cultured.

• France
10 Dec 16
This mayor is a retired farmer, and I think that he does not know well this new invader. I will write it to him, I hope that he will try to get information on these wasps to control, and will not take it bad. He knows perfectly that he has no rights to order me to destroy this nest : the letter has even not a registration number.