Along the Pyrenees (I) : Pheasant Island, the smallest condominium in the world.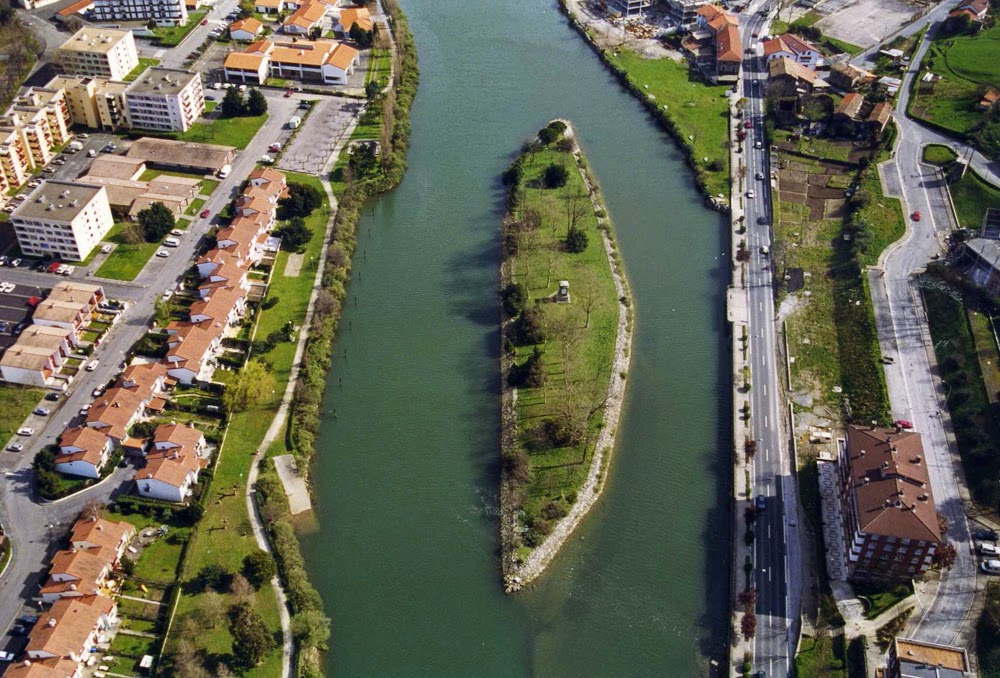 Djibouti, Djibouti
January 18, 2017 5:16pm CST
On the left side of the picture, Hendaye in France, on the right side, Irún in Spain. The two countries are separated by the Bidasoa River, and in the middle of the river there is a small island with an area of 0.00682 km2 (0.00263 sq mi), Pheasant Island. Since at least the 13th C this island has been used to sign treaties between France and Spain : treaties of good correspondence between French Basques and Spanish Basques allowing them to trade when their two countries were in war (many international rules applied today are born in these old treaties) ; peace treaties, the more important being the treaty of the Pyrenees in 1659 ; this treaty decided that the island would be a joint sovereignty between France and Spain. Louis XIV met there his future wife, like his father Louis XIII before him in 1615. Louis XV met his intended bride, Mariana Victoria of Spain on Pheasant island in 1721, but she was a bit young, only 3 years old, and he preferred to marry a Polish girl. A monument that you see on the middle of the island commemorates the treaty of the Pyrenees. The actual condominium on the island has been specified by a treaty signed in Bayonne in 1856 and a convention from 1901. The island is under the sovereignty of Spain between February 1st and July 31, and of France between August 1st and January 31. It is administered by two vice-kings, who are the Navy officers commanding in Bordeaux for France, and in San-Sebastian for Spain. Every February 1st the French Navy transmits the power to the Spanish Navy, and the Spanish Navy does the same for the French Navy every August 1st. There is an International Commission in charge to solve borders problems. This commission has decided to alternatively grant the right to fish in the river to each country. Indeed, since there is no more customs and real borders between France and Spain, it is a bit folkloric today. It is usually possible to visit the island twice a year : there is a visit organized by Spain in July, and another one by France in September, the rest of the time, except when a treaty is signed between France and Spain (last time was in 2008 ; Hitler met Franco in Hendaye in 1940, though it was not on Pheasant Island but in the railway station : these two men were lacking of poetry), no visitors are allowed on the island, that you see very well from both banks.
7 responses


• Ireland
19 Jan 17
@pgntwo
Are you thinking we might try that route ourselves? Alternate sovereignty at Stormont sounds like the sort of thing we'd make a right hash of. Highly entertaining prospect.

• Roseburg, Oregon
18 Jan 17
Very interesting facts about the island used by Spain and France.

• United States
25 Jan 17

Have you actually been on a visit? That sure is a tiny island . . . how lovely it would be to purchase it and have a house on it

- I can say I live in France and Spain

.


• United States
28 Jan 17
@topffer
Taxes

. I suppose there would be downsides to owning such a historical island in such a location. Do people try to swim to it?


• Djibouti, Djibouti
28 Jan 17
@much2say
There is a lot of current in this river, but the island is not far from the banks, and I suppose it is possible to do it in summer. I would rather take a bark

. It is forbidden, but the Navy goes there only twice a year to transmit the power on the island, and there is no more customs control between France and Spain, so I think there would be no trouble, at the most a ticket, like for people found in the catacombs of Paris. I should speak of the "forbidden catacombs" here, it might interest more members than Pheasant island

.

• United States
31 Jan 17
@topffer
Oohhh, catacombs would be interesting for sure

! But I did enjoy reading about this wee island - if it weren't for you I may not have otherwise every known about it!


• Pamplona, Spain
27 Jan 17
Do you know I have been across to Hendaya a few times but never knew anything like that about its History or that the two Countties changed over between themselves every six months of the year. Did not know that about the EU. Council either but mind you they never tell us anything like that on the News. Maybe they want it to be secret (grin). I know the Bidasoa River quite well too have been there more times than to Henday and Saint Jean de Luz.

• Djibouti, Djibouti
28 Jan 17
You can ask Wikipedia to confirm it. They will tell you that the presidency of the Council of the EU is held by Malta since January 1st

. And next time you will see Pheasant island when you will go to Hendaye you will know that it is a small island with a great history

.

From Wikipedia, the free encyclopedia Jump to: navigation, search Not to be confused with President of the European Council. Presidency of the Council of the European Union Incumbent Malta Term length Six months Website www.eu2017.mt Presidency Trio Nether

• Trinidad And Tobago
18 Jan 17
Fascinating bit of history. The middleman or neutral territory...probably appropriate to call it the land that flies the flag of truce.How close would that be?

• Djibouti, Djibouti
19 Jan 17
I think it could exist only in this area : on both sides of the border people are speaking Basque. The Basques were already divided between Gaul and Hispania during the Roman Empire, but their culture is the same and they always had a special status when there was a war between Spain and France, for example they could continue to trade during a war, and corsairs were not allowed to capture a French Basque boat in a Spanish Basque port or the opposite

.

• United States
18 Jan 17
Now that is one wonderful way two countries have worked something out that is fair to both. Quite refreshing! It is a lovely little island.

• Djibouti, Djibouti
19 Jan 17
It is something very special due to the fact that on both side of the border people are Basques speaking the Basque language. They always had a special status when a war was happening between France and Spain, making them somewhere neutral, so it was the perfect territory to sign a peace treaty.