Send a letter to this guy!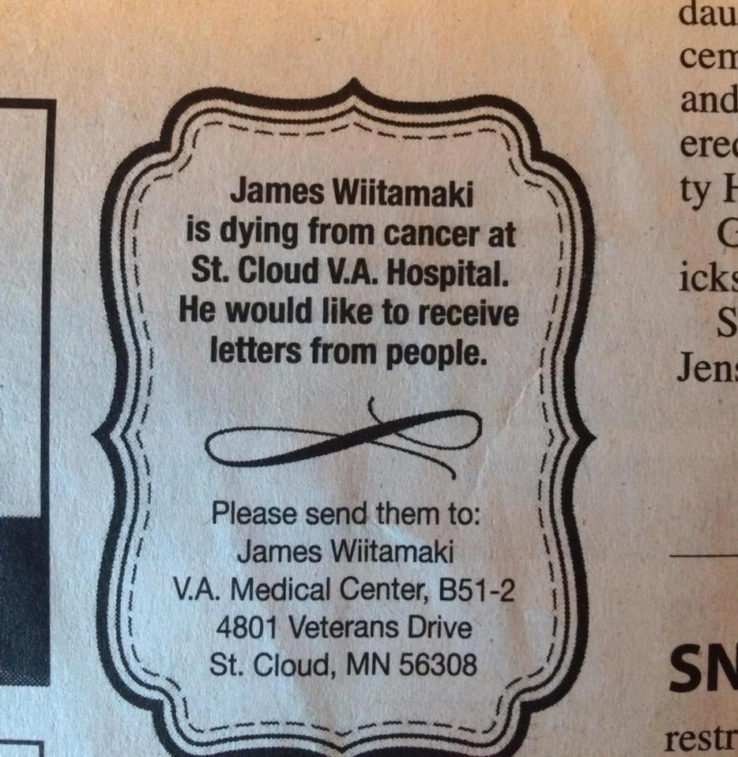 United States
February 7, 2017 7:54pm CST
Not a political post at all! Our Minnesota Public Radio put the spotlight on this ad that was put in the paper by a vet, dying of cancer, who in hisfinal days would love to see some letters sent to him. I attached the photo with his address as well. My heart aches for this guy who must feel lonely. Since the ad has been put on the paper, many vets have actually gone and visited him. Which is sweet. I am going to send a letter later this evening. What about you?
5 responses

• Kakamega, Kenya
8 Feb 17
God be with him. I feel sorry for him. How is your mylottong I hope you are enjoying

• Toronto, Ontario
8 Feb 17
So sad- now he'll probably get an onslaught of letters but that will be a lovely blesssing for him!

• Toronto, Ontario
14 Feb 17
@maezee
No but they must have someone there to help him!