Bumblebees have smelly feet - did you know?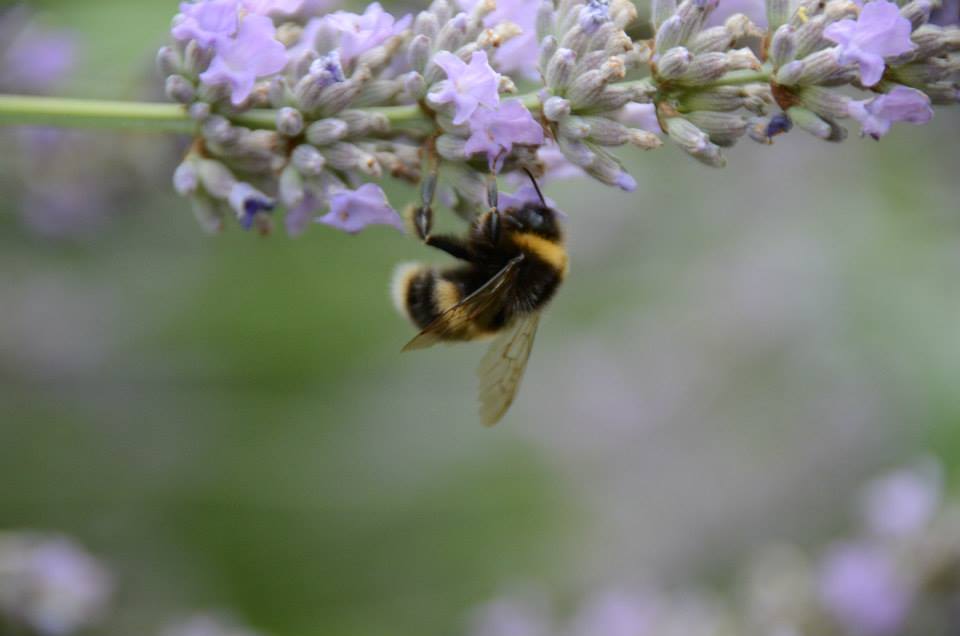 Northampton, England
March 16, 2017 5:41am CST
I subscribe to a newsletter from the Bumblebee Conservation Trust. I love ALL bees but have a special affection for these fat furry flying beasts that look like they break all the laws of physics in order to get off the ground. We have a lot in our garden and they can get pretty big; certainly big enough to make a tempting target for a cat with nothing better to do than chase one round the garden or the house. Today I learned from the newsletter that bumblebees have smelly feet. Who knew? Apparently they leave their foot-pong on flowers after visiting so that other bumblebees will know not to waste their time visiting because they've already nabbed all the pollen. The scent of their paws then wears off with time and a canny bumblebee knows which flower will have replenished its goodies by how strong the scent of his pre-visitor has become. Honey bees are of course very famous for their wiggle-dances and their great navigation, but I'm impressed to know that the flying fat-boys of the bee world have a few tricks up their sleeves - or more precisely in their socks. The picture - if you are wondering - is one of mine. I grow bee friendly flowers.
10 responses

• Bunbury, Australia
16 Mar 17
That's pretty amazing but I do have to wonder how the researchers worked this out.

• Northampton, England
16 Mar 17
Perhaps they followed them to the bee laundry and matched up all the little socks.

• Bunbury, Australia
16 Mar 17
@boiboing
That's the obvious answer. I don't know why I didn't think of that. :)

• United States
16 Mar 17
The 'flying elephant' version of the bee family

• Northampton, England
16 Mar 17
Absolutely. Like the dancing hippos in Fantasia

• United States
16 Mar 17
@boiboing
I used to have a guitar oriented version of 'Flight Of The Bumblebee' but I can't remember who did it


• Fairfield, Texas
16 Mar 17
Wow, that is interesting
@boiboing
and who would have guessed; although it does make sense for them to do that.

• Northampton, England
16 Mar 17
Sometimes you read something and think "Yes, of course. That makes total sense" but you'd never have even thought to wonder if you hadn't seen it written down.

• Fairfield, Texas
17 Mar 17
@boiboing
Mother Nature at her finest and curious.

• Switzerland
16 Mar 17
Is this a lavender flower? I also grow lavender because both my husband and I love the bumblebees. Two years ago I planted tomatillos (Mexican husk tomatoes) and they were mad around those flowers. I have tried again last year but we had a too wet summer, I was so sorry for my little fat friends.

• Northampton, England
16 Mar 17
They adore foxgloves and anything with lots of little flowers. We had a whole hedge of lavender but have just pulled it up to replant as it was getting out of control. We'll make sure they find other good things to eat. At the moment we have amazing heather flowering which is giving them a nice early start.

• Philippines
16 Mar 17
That's just a lovely photo of a bee, you captured the bee clinging to the flower. Love it. It can't deny you really love bees and flowers.

• Northampton, England
16 Mar 17
They are all over my garden. We are consciously planting to attract them. We're like Disneyland for bees.

• Philippines
16 Mar 17
@boiboing
th at just great, I can imagine how wonderful your place

• Centralia, Missouri
16 Mar 17
ahahaha, feet marking, that's cool! I saw a thing online for free seeds from Cheerios, bee friendly flowers, I put in for some, going to plant them in the back yard

• United States
16 Mar 17
I am a bee careful person around bees...been stung way too many times.