Look! It's my own eBay listing…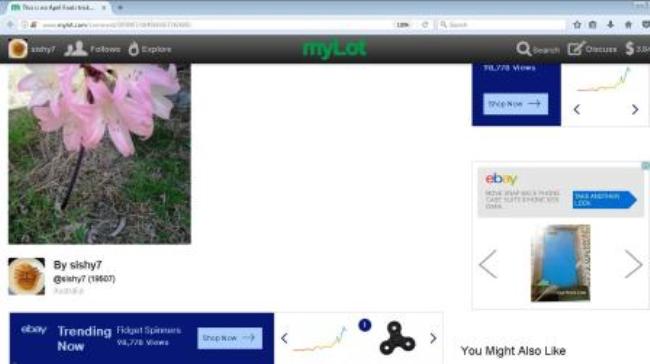 Australia
April 2, 2017 11:44am CST
# 64 I would be reading discussions posts on here when every now and then the ads appearing on the discussion's page would grab my attention...

It's usually when eBay ads show up. And how could I
not
notice it - after all, I recognize the items being advertised right away… Why? Because they are my own listings!

How did that happen, I wonder? I know very little how ads work on myLot pages. I heard things like it relates to our locations, our searches, or our online activities. While it surprises me to see my own eBay listings, it probably would work better for me if
others
see my listings. I wonder if that is happening too…

10 responses

• Italy
2 Apr 17
Maybe someone thinks you might buy your iwn stuff?



• Australia
2 Apr 17

I may as well - I've been relisting that particular one so many times and still no taker... eBay suggested I lower the starting price but I won't budge - I hardly make anything as is plus I offer free postage... What more do they want from me; except maybe that, to buy my own stuff...



• Sutton, England
2 Apr 17
I could understand Ebay being thrown up as an advert. To get your own listings show up is amazing. I can't see any in front of me.

• Sutton, England
2 Apr 17
@sishy7
It would be more productive for you. Especially in Australia.

• Australia
2 Apr 17
@Gillygirl
You're right... Although I won't mind global exposure at all on there... My buyers were mostly from outside Australia so far...


• India
3 Apr 17
Our activity is an open secret. I barely look at Amazon and not even buy but that item will be shown on FB


• India
3 Apr 17
@sishy7
No matter who sees they will appear on all pages


• Philippines
2 Apr 17
Good then I think it would work to your advantage

• Australia
2 Apr 17
@louievill
Oh okay... That's good news for me, I suppose then...

• Philippines
2 Apr 17
@sishy7
I hope so too, I mean good news



• Waikoloa, Hawaii
5 Oct
how many products you buy now in ebay?

• Elberton, Georgia
7 Apr 17
There must be a connection.


• Roseburg, Oregon
3 Apr 17
I have seen my listings on this site to. I have not sold anymore items by that happening.

• Guam
2 Apr 17
Very interesting.