feng shui item wind chimes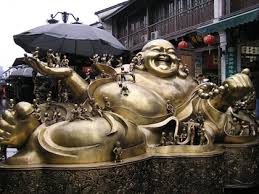 Hyderabad, India
April 6, 2017 10:23am CST
Nowadays I am observing the wind chime swinging heavily. It is releasing some nice sounds into the air and the entire room is quite calm. I am feeling some pleasant voice inside as well as outside. I am not losing my temper while speaking to others. Generally, I lose my temper at others. But, I am not getting angry. Everybody is quite happy. In the evening when I open the door the cool breeze touches the wind chime and it swings rapidly. But, the chimes strike against each other and release nice sound into the room. As per Feng Shui this is a good sign for driving out negative energy from the house. This is what exactly it is doing. Feng Shui is not bringing any new luck and just lying on the t.V like a stone. The lucky bamboo is also not giving immediate luck. But it is somewhat dull nowadays. The laughing is still counting his money and does not want to give it to me now. He is counting the money and keeping it in his wallet. So he may take some more time to hand over the money. Another laughing Buddha is still dragging the heavy bag on the floor as it is very heavy filled with a lot of currency. So, he is also not bringing the bag filled with currency immediately. They all take some time. For the present, it is only the wind chime which is protecting and bringing luck to me. Do you have feng shui items kept in your house?
3 responses

• Commerce, Georgia
6 Apr 17
Some have meanings. I used to have dream catchers and other chimes.

• United States
6 Apr 17
We do have wind chimes here, but I think we need some lucky bamboo too.

• United States
6 Apr 17
I don't know much about Feng Shui but I do have a lovely bamboo wind chime in the back yard. I didn't think I would like it but it was a gift from my daughter in law so I had it hung in the tree. I love it! It was made in Thailand and looks and well as sounds beautiful. When I see or hear it I get the pleasure of looking at it, appreciating the sound, and remembering the love with which is was given so it is a completely positive ornament.