The Naked Sheep - An Old Poem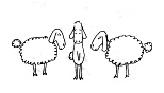 Goodfellow, Texas
April 26, 2017 2:57pm CST
The Naked Sheep - A Poem The Naked Sheep - A dull-witted sheep ambled through. That's something a smart sheep won't do. It's hair's now a blanket. Did anyone thank it or say to it,"Don't catch the flu?" This little "dumb poem" is for our friends in Australia - where sheep and kangaroos are almost sacred critters. I was pushing around inside of my old book and, right before my eyes appeared the sheepie critter, quite hideless. Used that as an excuse to learn how to transfer PGN sketches from word processor texts into JPEG image files on my image disk. Fun and games in Bunbury, right? Image: Sketch by Al Kaeppel
5 responses

• Bunbury, Australia
27 Apr 17
That's very clever - and thanks for thinking of me and Herc!


• Goodfellow, Texas
27 Apr 17
@JudyEv
- Ms Judy - Easy enough... Think of "friends" and up will pop Ms Judy and Mr Vince. "Herc" is frosting on the cake. -Gus-

• Guam
26 Apr 17
@Ceerios
A nice poem. Is that you own composition my friend?


• Goodfellow, Texas
26 Apr 17
@megatron777
- Howdy Alex - It is one of the "101 Dumb Poems" from my first book of poems. Shakespeare and I were cellmates back in SingSing Prison & Correctional Facility where we collaborated on determining how best to plagiarize. -Gus-

• Guam
28 Apr 17
@Ceerios
Of course my friend I know that Shakepeare has just merely copied from your own poem.


• Goodfellow, Texas
28 Apr 17
@megatron777
- Howdy Alex - That is what I enjoy so much here on the MyLot website - Mill Otters (My Lotters) seem to be preponderantly observant types and well-spoken like our fellow, Alex. Just as a side note ... It was difficult to teach that rascal, Shakespeare, anything very useful in the rhyming business, but he really went for the plagiarism stuff. One of his favorite expressions was "Plagiarize. Let nothing evade your eyes." Nice guy, too. We always shared food with one another. He preferred the middle part of potatoes, but he never failed to leave those potato peels for me. Note: Should you ever get stuck in a jail cell with a writer, be sure to arrange for two things to be sneaked in to you from the outside - food and pencils.

-Gus-

• India
5 May 17
He got caught coz he ambled slowly?You love playing around with computer graphics, don't you. How are the trees doing?

• Goodfellow, Texas
5 May 17
@responsiveme
- Friend ARM - Yes. He moved too slowly and was caught up in the shearing. My late friend, Al Kaeppel, produced the ink sketch of the fleeced sheep. Back in the day (around 1980 or so) I, myself, was in the process of also being quite the loser - like a sheep, so to speak. Many times a poem or a rhyme will come along like getting a crutch to help a person stand in stormy times. -Gus-


• Goodfellow, Texas
28 Apr 17
@drannhh
- Little rhymes about ruminants giving up their curly locks in order to blanket the world with them are always utilitarian - but rarely entertaining. You are most kind to point out that which many of us miss - sheepful humor from a fellow Mill Otter (My Lotter).