I Brought My Cat Home Today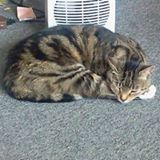 Beaver Dam, Wisconsin
May 10, 2017 3:30pm CST
I didn't post this last Monday, when it happened, because it was one of those things that was a little difficult to put into words at the time. Our cat, Apollo, who was a member of our family for more than 16 years, passed away last Monday at the age of 18. He was starting to show signs of his age and I pretty much expected him not to make it through the year. But, his health declined rapidly (Saturday morning he was fine. Sunday morning, it was obvious he was nearing the end) and it ended up being a pretty big shock as a result. Since he was ready to go but couldn't get there on his own, we ended up taking him to the vet on Monday and helped him end his suffering. We decided to have him cremated and, today, I brought his ashes home. The car ride was a bit somber, though I did laugh a bit when remembering how much he hated riding in the car. And, I admittedly broke down when I got him home. Not so much from his ashes as much as the little paw print they took from him and included with the urn. It's definitely proving to be a much harder adjustment than I ever imagined. But, I guess that shouldn't be surprising considering we had him longer than we have had our kids.
10 responses

• United States
11 May 17
Wow 18. You were so blessed to have him that long. My cat is 14 and I know her day is coming quickly. She's been sick for a while. I'm taking her for an ultrasound on Friday, but she's nothing but bones now and eats almost nothing. She's been my constant companion since I lost my husband a couple of years ago and I've been in agony watching her slowly slip away. So I do know your pain. When we love, we grieve a lot. My heart goes out to you.

• Fairfield, Texas
11 May 17
I'm sorry to hear about your baby
@CRK109
. I've been there so I know exactly your trepidation.

• Northampton, England
10 May 17
Having lost two cats this year, I feel your pain.

• Fairfield, Texas
11 May 17

• Bunbury, Australia
11 May 17
After so many years our pets really do become part of our family.

• United States
10 May 17
Losing a pet is difficult and I hope all those years with Apollo will give you wonderful memories to help you through this sad time

•
10 May 17
I'm sorry for your loss pets become one of your family! It's so hard to let them go but you did the right thing to save him from suffering at the end. I've no doubt he had a fantastic life with you so try to remember all the good memories you have of him.

• Holiday, Florida
10 May 17
so very sorry. i know exactly how heart broken you are. my coco dog has been gone for 6 months and still miss her so much.

• United States
10 May 17
Your last act of love released him from pain and gave him an easier passage to heaven. I know it's hard, I recently had to do it, too. I hope your sorrow is soon lightened by all the good memories.


• Fairfield, Texas
11 May 17
I am so sorry
@srhelmer
. I can totally understand your grief. I had one pass away on December 31 and another one on January 3rd and they were both only 10 years old. 18 years is a wonderful time-frame.