My boy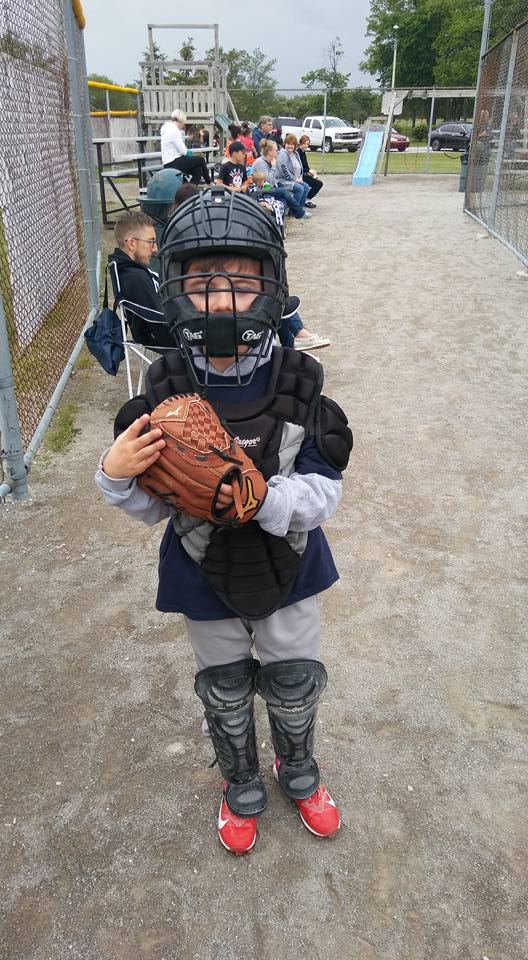 United States
May 26, 2017 1:15am CST
Today my son had his game and he got to be the catcher which he did surprisingly well. After he came out he gave me a big smile and goes "I didn't even play in the dirt mommy!" I love my boy. He then got ready to bat and it started raining, thankfully it was a light rain and only lasted for about 10 minutes. His second time batting he managed to actually hit the ball and then he literally pranced to first base and everyone watching cracked up laughing. My boy is a born entertainer. My son will do anything for a laugh, I foresee him being the clown of his class (Seriously Mylot wouldn't let me write it the other way). I know most adults love him because he is super outgoing and he's just plain comical. My son is who he is and he makes no apologies for it. He makes me proud, even if sometimes he does enjoy embarrassing me. He has always loved being the center of attention and he enjoys making people laugh. He is my goofy boy, sometimes I have a difficult time believing he belongs to me because he is my opposite but I love that about him. I love how he knows exactly what to say or do to make people smile or feel better. He has a certain gift that makes people smile and he makes me so proud. He's not perfect and there are days he's a royal pain but I have never been able to stay angry with him for more than a few minutes. Today when we got back from his game he came up and whispered to me "don't tell daddy mommy, but I like you best" which to me isn't a shocker as he and I have always had a strong bond. He almost always prefers me over his dad. He has always been my little buddy, although part of me wonders if he tells his dad that too. He told me that he loves us both the same but he likes me more, but part of that is because he and his dad drive each other crazy at times. They love each other but they both get frustrated with each other. My boyfriend loves our son beyond belief and he would do anything for him but he doesn't always have the patience to deal with him. I have found mothers and sons do usually have a stronger bond but not always. After this long week that has mostly revolved around my son I can honestly say I am proud of him. He's come a long way and he continues to surprise me with how amazing he is. I have received a ton of compliments from others telling me how amazing he is and I can't lie it really makes my day because I'm glad others can see what I've always seen. I've known from the second I laid eyes on him just how amazing he was, if I'm being honest I've known since the second I heard his heartbeat. He has always had me so filled with awe. When my boyfriend's mom was here she was looking at the photo book we gave her of my son's pictures and she looked at his baby pictures and she couldn't get over how cute he was, she wasn't a part of his life until he turned two so she missed the first two years. She couldn't help but notice how similar and yet different he looked. I often think the same thing about his personality and how it has remained the same and yet changed too. It's amazing how much they change over the years. I want to slow time down and just enjoy him being little but at the same time I'm curious to see who he becomes. I think I'm just going to take things a day at a time and watch as he grows up.
7 responses

• Australia
26 May 17
What a lovely darling you have...


• Australia
26 May 17
@sissy15
you're welcome. How old is he? (sorry if I missed this part). Your boy sounds like mine,and mine is going to be 9.

• United States
26 May 17
@atoz1to10
My son is 6 he just finished kindergarten and will be starting 1st grade in the fall.


• Banks, Oregon
26 May 17
I have never been a big sports person but I love watching kids play sports as they enjoy it so much at that age

• Roseburg, Oregon
26 May 17
Your son sounds like a really neat kid and he will go far in life.

• Boise, Idaho
26 May 17
You prove every time that you write on here about your son that you love him and are very proud of him.

• United States
26 May 17
Thank you, I am very proud of him and I love him more than anything in this world but I think most parents are like that. We all should be proud of our children and love them with everything we have. I know I'm not the only one that feels this way. For me, it probably seems stronger because he's the only one I have. I mean if I had another one I'm sure I'd love them just as much but it's difficult to picture right now. My mom has always loved all of us and has been proud of each and every one of us, and I know she's having a difficult time with my brother right now but she loves him and is still proud of who he is when he's sober. I imagine it's just part of being a parent.

• Boise, Idaho
26 May 17
@sissy15
.....That is abundantly clear. Having just the one doesn't make the love stronger I would think. We, as parents, need to love a child in the right way though and not be overbearing and smothering.

• United States
26 May 17
@celticeagle
I agree, that's what we signed up to do when we had them. I do my best not to be overbearing or smothering. I try to be somewhere in the middle. Give him love and attention but also his own space. It can be difficult at times when all you want is to keep them safe.


• India
26 May 17
Aww children grow so fast..even before we realize it

• United States
26 May 17
Your kid is quite the character. He must take after his REAL dad. ;)


• United States
26 May 17
Thanks, and lol he wasn't interested in soccer when he played soccer. He claims he wants to play again but I'm hesitant after how he was in it last time. My son isn't great at sports but he plays them. He is more artistically gifted but I sign him up for various sports because he needs the exercise and teamwork that come with it. I mean he doesn't hate them and he does sometimes enjoy it but he isn't great at them.