Gratitude Challenge Day #894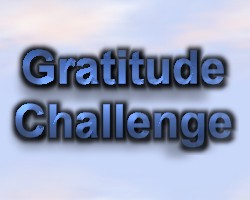 United States
July 13, 2017 1:23am CST
Hey there, everyone. It's late, but I still wanted to do the Gratitude Challenge. Since it's after midnight, this is actually the Gratitude Challenge for Wed., July 12th….. 1. I had a good writing day, and I already have two orders ready to go for tomorrow. 2. Babysitting was fine for the most part today. The little guy had me cracking up a few times lol. 3. I caught a few of my favorite shows throughout the day; Everybody Loves Raymond, Full House and The Cosby Show. 4. I got pizza fries from one of my favorite local sub shops tonight. It's not really healthy, but we don't order anything from this place often for some reason. 5. I'm finished with everything, and it's time for bed lol. Alrighty, I really need to hit the hay. I'm babysitting and writing tomorrow. You all have a good night, or morning, and take care! Photo Credit: I made this graphic using PhotoImpact 6.
5 responses

• United States
13 Jul 17
Very good tv shows. Pizza fries sound yummy.

• Hong Kong
13 Jul 17
@tammys85
Nice to read your post.