The New Dr. Who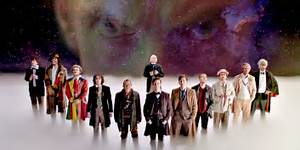 United States
July 16, 2017 3:21pm CST
is a woman!

PC (political correctness) might have ruined one of the best shows ever made but we'll see. I'm very disappointed but I guess it was inevitable. Judging by the last season, the show is on its way out. I hope it gets better.

Broadchurch star Jodie Whittaker is to be the first woman to play Doctor Who. The announcement was made on BBC One and social media around the world after the Men's Wimbledon Final today.
8 responses

• Canada
16 Jul 17
I honestly can't see Dr. Who suddenly being a woman. They may prove me wrong ??? Just wait until my hubby hears about this! He grew up on the series!!

• United States
16 Jul 17
Then he will have a harder time than me adjusting to the new Doctor! It's funny how many of the actors that play the Doctor grew up watching it, isn't it? I just don't think it is fair to ruin most of the last season trying to bend over backwards with the lesbian thing then give us a female doctor the next season. The stories suffered last season. If they had just gone with the story line and not tried to emphasize Bill's lifestyle they would have been fine. Now they're going far afield to please everyone and I don't think it will work. We'll see!

• United States
16 Jul 17
Yeah its baloney Dragon..sorry but I am not thrilled with this idea.

• United States
18 Jul 17
I truly only remember the very old Dr Who that came out in the 70's so I cannot even begin to shoot this one down

• United States
18 Jul 17
I want to like the new Doctor, I really do. But I'm so sick and tired of everyone being so PC--do you think they would have chosen a woman if not for all this political crap? They had a lesbian companion last season but if not for the LGBT whole whoopla political activism they may not have--as it it, they ruined several episodes trying to showcase her sexuality. Look at us, we are all inclusive, it seemed to shout. Crap.

• United States
18 Jul 17
@dragon54u
really you think the political motivations occurring right now in the WH has something to do with a gender change to an incredible sci-fi character ?


• United States
17 Jul 17
They have become increasingly politically correct over the past season and the show is suffering for it. Already someone mentioned an article that calls people names for not liking the change.

• Switzerland
17 Jul 17
@dragon54u
Politically correctness is becoming ridiculous.

• Bunbury, Australia
3 Aug 17
Maybe this is the shot in the arm that the show needs.

• United States
3 Aug 17
Maybe, but it was very popular prior to this according to fans and the people that keep track of such things. We'll see. I'm sure they announced it now to give people a chance to mull it over and get used to the idea.

• United States
27 Jul 17
Wow, I hadn't heard this. If it's not broke why fix it ? I loved the original Dr. Who


• United States
27 Jul 17
Me, too! PC manages to ruin everything eventually, I guess. But who knows? Maybe it'll surprise us!

• United States
23 Jul 17
I've only seen bits and pieces of the show. Just can't seem to get very interested in it. But I don't know why they would replace him with a woman when it's always been a man in the role. I saw online that many fans don't like the idea.

• United States
23 Jul 17
They are trying to go with the times, to be politically correct and please everyone. That means they will please a very small minority that probably doesn't even watch the show. This last season was focused on the sexuality of the Doctor's companion and some story lines were twisted up quite a bit in order to showcase the first lesbian companion. The stories really suffered for it and were even boring at times, very unusual for this show. I suspect the series is winding down to an end after running on and off since 1963.

• Los Angeles, California
16 Jul 17
Political correctness is now the rule of thumb and considered the most important aspect in all decisions and behavior and anyone disagreeing gets dumped on. I have already read an article stating that anyone complaining about the casting of Jodie Whitaker is a deplorable sexist.