Busy Times, Getting Busier...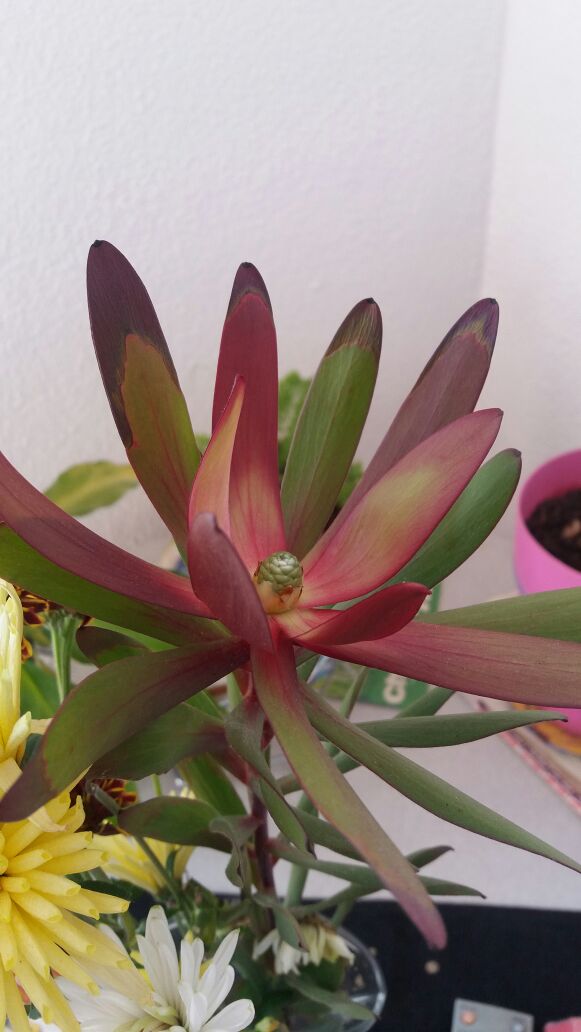 Johannesburg, South Africa
July 29, 2017 5:55am CST
This week was just crazy busy, so I could not be around much. I see it was a busy week for many though as the site seems more silent than usual, or it was just silent for me. Goodness knows. Plus I have had Wi-Fi and connection issues, too frustrating! Well, my sister is on vacation now, so I will be extra busy, miss Daisy needs to go to the dog parlour, my Mom needs to get to the dentist and this with figuring out how to keep her on oxygen! I am trying to beat a cold, vitamin C is my best friend right now. We'll need to spring clean the home. We have to fit in retail therapy and there must be time for a cocktail or two. This will be the next three weeks. But I will still stop by, I will not forget you all, and I hope you don't forget me. I wish everyone a fantastic Saturday. Any plans for your weekend? Busy times ahead for you? I am off to make lunch. Have a healthy and happy weekend all! Photo is of a flower that reminds me of a type of Protea, though I am awful with names of flowers it is pretty and I wanted to share it here.

10 responses

• Gainesville, Florida
29 Jul
I had to work today, but it was a fun work day. We ran an event we call 'Dash & Splash' that took place this morning. Today's event consisted of a 5k run, followed by a 400-meter swim.

• Johannesburg, South Africa
30 Jul
Oh no, Jeff, I really hope you get time to rest. But thank goodness you had fun. I wouldn't mind the swim, but the running I will leave to the super fit. Enjoy the rest of your weekend and I hope your week will be kind. :)

• Gainesville, Florida
3 Aug
@bluesa
My week seems to be going really fast. It's already Wednesday! It feels like I just started the week, and now it's half over! How's your week going?

• Johannesburg, South Africa
3 Aug
@moffittjc
same here, Jeff. Pretty hectic. I am already by Thursday. I hope you'll have a good Thursday and maybe Friday will be kinder to us?



• Philippines
30 Jul
my dear, you take 'unknown flowers' well in pictures. hahaha! i know you will be busy with the chores you must do, and be assured though that i am always here for you. have a happy Sunday.

• Philippines
1 Aug
@bluesa
i am now mylotting after a busy duty day, my dear. i want to zero in my notifications, because i have to go to the city tomorrow morning to do some personal errands.

• Johannesburg, South Africa
1 Aug
@ridingbet
I hope you were able to clear your notifications and I hope you'll have a good day tomorrow.



• Johannesburg, South Africa
30 Jul
Thank you, Dianne. She will be staying home, we can't leave our Mom for too long and we have to get our Mom to the dentist and we need to take her shopping for clothes, all trying to figure out the oxygen issue. But at least we might be able to go for a cocktail or two. Ugh, sometimes technology is a right pain, good luck with your Wi-Fi!

• United States
30 Jul
@bluesa
I understand, Catherine. I would think there would be portable oxygen available for those who need it, but what do I know? Hope you get to have a cocktail or two. Boy, do you deserve it! Hopefully the new router will arrive in a few days.

•
30 Jul
After doing all those chores and recovering from a cold I do think a cocktail or two or three perhaps, oops

is in order! I'm going to hear a band play Sunday afternoon. Hoping it is a little warmer, cold, cloudy and rainy in NJ.


• Johannesburg, South Africa
30 Jul
Lol! DB! Or three!? I would have to be carried home

! Oh, Enjoy the band! I hope the weather will be lovely so that you can. Here in my suburb outside of Jhb it was a mild day. I hope you enjoy the rest of your weekend.


•
31 Jul
@bluesa
Thank you Catherine, everything today did turn out wonderful


• United States
29 Jul
Wow, you have a lot on your plate lady. Try not to let it overwhelm you.

• United States
31 Jul
@bluesa
does she not have portable tanks she can bring with her?

• Johannesburg, South Africa
1 Aug
@ElusiveButterfly
the medical aid will not provide them for her since she does not work. So we'll have to make certain the dentist has some available.

• Australia
29 Jul
I like that flower.. Hope you will get better soon, and of course we will still remember you. All the best and take care


• Johannesburg, South Africa
29 Jul
Thanks
@atoz1to10
sorry I don't know what type it is. Thank you

. I will still try to stop by each day. Take care too.


• Oxford, England
29 Jul
It is nice to hear about all that is happening to you. The photo of the flower is very good. Have a great weekend.


• United States
29 Jul

Hope you feel better soon with the cold. I too am not well. No plans.

• Johannesburg, South Africa
29 Jul
Sorry you are not feeling well dear
@TiarasOceanView
, this weekend will be just chores getting done. I hope you will feel better soon and you must please take care of yourself.