Parents are unfair to the boy child so says this Indian writer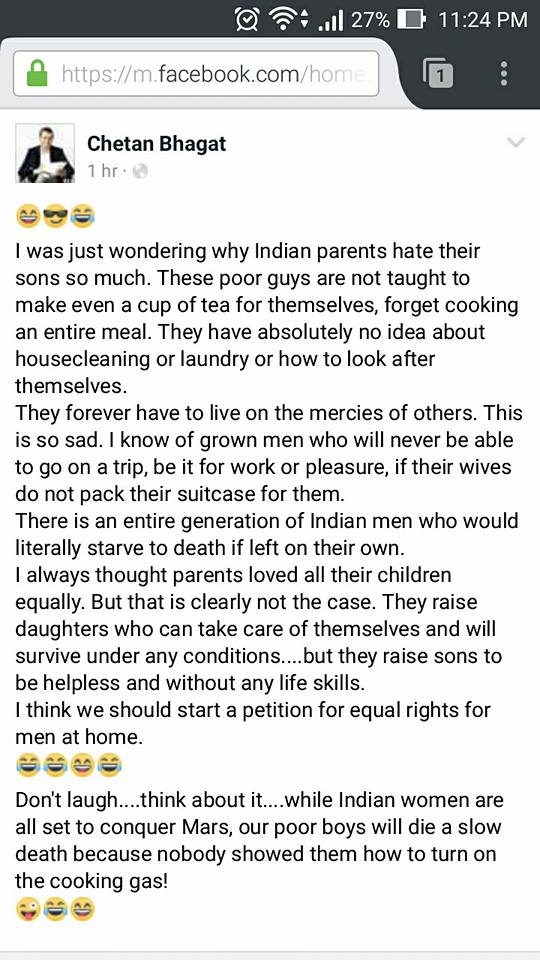 India
10 responses

• India
5 Aug
Let me call the cavalry...
@TheHorse
...I am not the only one who has such opinion about Indian men. ha ha..
@DaddyEvil
..what do you think?
@mommaj
proof for you that Indian men are not worth it.
@CoralLevang
.. look at emoticons...I could punch his face...as if he can't learn how to do that..when he can learn to use cell phones and new car features..

• Aurora, Missouri
8 Aug
Hmmm.... I know several Indians who we might be speaking about here. I have been teasing one about his mother doing everything for him and he doesn't lift a finger for himself. I am glad most American men can take care of themselves and their children, if that is needed. (In my case, it was needed.)



• Defiance, Ohio
5 Aug
A lot of American boys are raised the same way. Not mine tho. I raised all my kids to be able to take care of themselves if they were on their own, cleaning and cooking.

• India
13 Aug
There must be some Indian blood in those parents (lo9l)


• United States
5 Aug
I agree that both male and female should have the skills to become independent and self-sufficient. Sadly, in many countries self-sufficient and independent women still get a bad deal in life.


• India
12 Aug
Good point.There are still men who think cooking ,cleaning and washing clothes are beneath their dignity.Those jobs are for women.But it is good to see that there are men who do not think like that.

• Aurora, Missouri
8 Aug
I understand what the author was trying to say, but I also know that Indian men aren't taught how to do things for themselves because their mother expects to be able to do those things for him, even if he gets married... She only reluctantly passes that baton to her daughter-in-law after marriage.

•
5 Aug
Haha that was so very well said by Chetan Bhagat