One Unknown Young Man Went To The 8th Floor Of The University And Fatally Jumped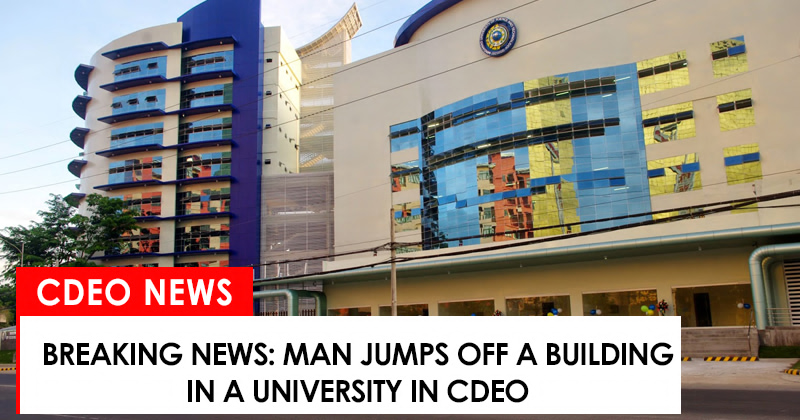 Cagayan De Oro, Philippines
August 11, 2017 8:14am CST
I was in the 4th floor of the Engineering building whem that unknown man jumped to his death.It happened at 10:30 this day. He based his suicidal jump from the 8th floor of building 42 , engineering building in our university. The guards on duty were not able to monitor that young man in his 20's.Maybe he passed through the entrance for teachers and other employees. There are 6 entrances , so the guards, 14 of them have not seen him. He used the elevator in reaching the 8th flor as seen in the CCTV camera in the elevator. He landed desperately to the cemented ground near the entrance.The blue color building in the left wing in this photo here is where he jumped. No one knew him.He was not an employee in the university.

Based from the police blotter report, that fatality was high on drug.

. He made a trip in the 8th floor of the university. This is one worst proof of drug that kills. Image shown here is the engineering buiding of our university, University of Science and Technology of Southern Philippines (USTP). I will never ride on the elevator alone,

, every Monda my class is in the 6th floor of this building from 9 to 12, then every Friday my class is still in this same building in the 4th floor from 10:30 to 12:00


10 responses

• United States
11 Aug 17
That is so sad. I have heard of people killing themselves after ingesting LSD. They are desparate to escape a bad trip. That must have been scary for all about.

• Cagayan De Oro, Philippines
11 Aug 17
@snowy22315
, I was so scared this morning when it happened. The ground where she fell was full of blood.

• Hong Kong
12 Aug 17
@cacay1
I'm really feel sorry for that man my friend and may his soul rest in peace.



• Hong Kong
13 Aug 17
@cacay1
That's right my friend and I'm sorry for that guys life.


• Cagayan De Oro, Philippines
15 Aug 17
@mandala100
, yeah he was badly influenced and exploited.



• Cagayan De Oro, Philippines
14 Aug 17
@velvet53
, The school is so busy this time for the midterm departmental exams, so we tend to forget that incident.That man might have passed the other gate for teahers and other employees and guards failed to notice for they are covered with so many students entering the gates.The guards on duty inspect the bags per student to avoid bad things to happen in the campus.Thank you, Velvet


• Cagayan De Oro, Philippines
15 Aug 17
@velvet53
That is true, every morning there are thousand students to get inside school,





• Cagayan De Oro, Philippines
21 Aug 17
@Shavkat

, how are you my friend?

• Pamplona, Spain
14 Aug 17
Lady next door jumped through a window and I was there and it was awful. Her nerves were very bad indeed and it seemed no one could see it coming. A day to remember I was on my own the next day and the parrot screamed all day long which was something she never did before as all her relatives were next door all day long. I felt like it had happened to me instead. Poor man R.I.P.

• Cagayan De Oro, Philippines
15 Aug 17
@lovinangelsinstead21
, oh, sorry, too , to your neighbor. Why didn't they like to live too long? Life is so beautiful to be wasted away.

• Pamplona, Spain
15 Aug 17
@cacay1
I know the reason why she did it but I cannot reveal it here. With care she would not have gotten to that stage of things. She was being neglected.

• United States
14 Aug 17
Oh dear this is very very sad that he would choose this. RIP


• Cagayan De Oro, Philippines
15 Aug 17
@TiarasOceanView
, yes friend, that was the life he chose to live and end, so tragic.


• United States
11 Aug 17
Such a tragic end to a life, my friend. Such a waste of a life.

• United States
11 Aug 17
That's so sad. Was he a student? That's a very high building.

• Waikoloa, Hawaii
31 Oct
sorry to hear these that is only a school and have a 8th floor who is the Owner of the school? pollitician?

• Philippines
11 Aug 17
A few years back I was at Robinson's mall watching a cycling activity when a man suddenly fell right in front of me. I thought it was one of the cyclists who just had an accident, but I was wrong. He jumped from the fourth floor! It was a really horrible experience and I didn't dare look at the man while he was lying on the ground because I was too scare to see blood or splattered brains.