Decorating and Psychology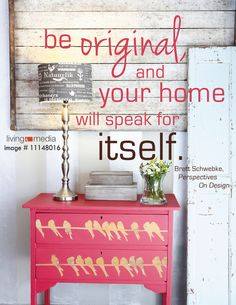 August 20, 2017 5:57am CST
I know some are not into the decorating scene, but did you know with the incorporation of the right colors and decorative pieces, one can inspire the desired atmosphere for home and office? Decor lends to moods, development of cognitive skills, production, balancing of personalities. What atmosphere would you like to produce in your home or office?
3 responses

• United States
20 Aug 17
Psychology was my minor, and I used to practice Colorology. I hadn't meant to stop either. But, I guess being in an abusive marriage for 12 years, followed by unemployment during the economic crisis, and the completion of parenting caused it to fall by the wayside. However, now that my son is moving out of state, and I have low vision and need a lot of color contrast, I am going to go hog-wild with my colors.

•
21 Aug 17
I have a degree in family counseling and a certificate in Home Decorating. I love bringing the two together. You could use your knowledge to really help people. It will strengthen and heal you as well. So glad you are no longer in an abusive marriage.

• Philippines
21 Aug 17
I'd like to exude a relaxing atmosphere at home while at the office, I'd like to have decoration that will inspire my creativity.

• Garden Grove, California
16 Sep 17
when we had a houseI sdewovraed with the idea that'lit shoul not look lke a sjow piece but lie a comfortable wecoming warm hearted house and tatw what we'made of it too I really loved that house but misfortnes madeus have to sell it