Everyone is so concerned about all the recent disasters, Irma is now on our minds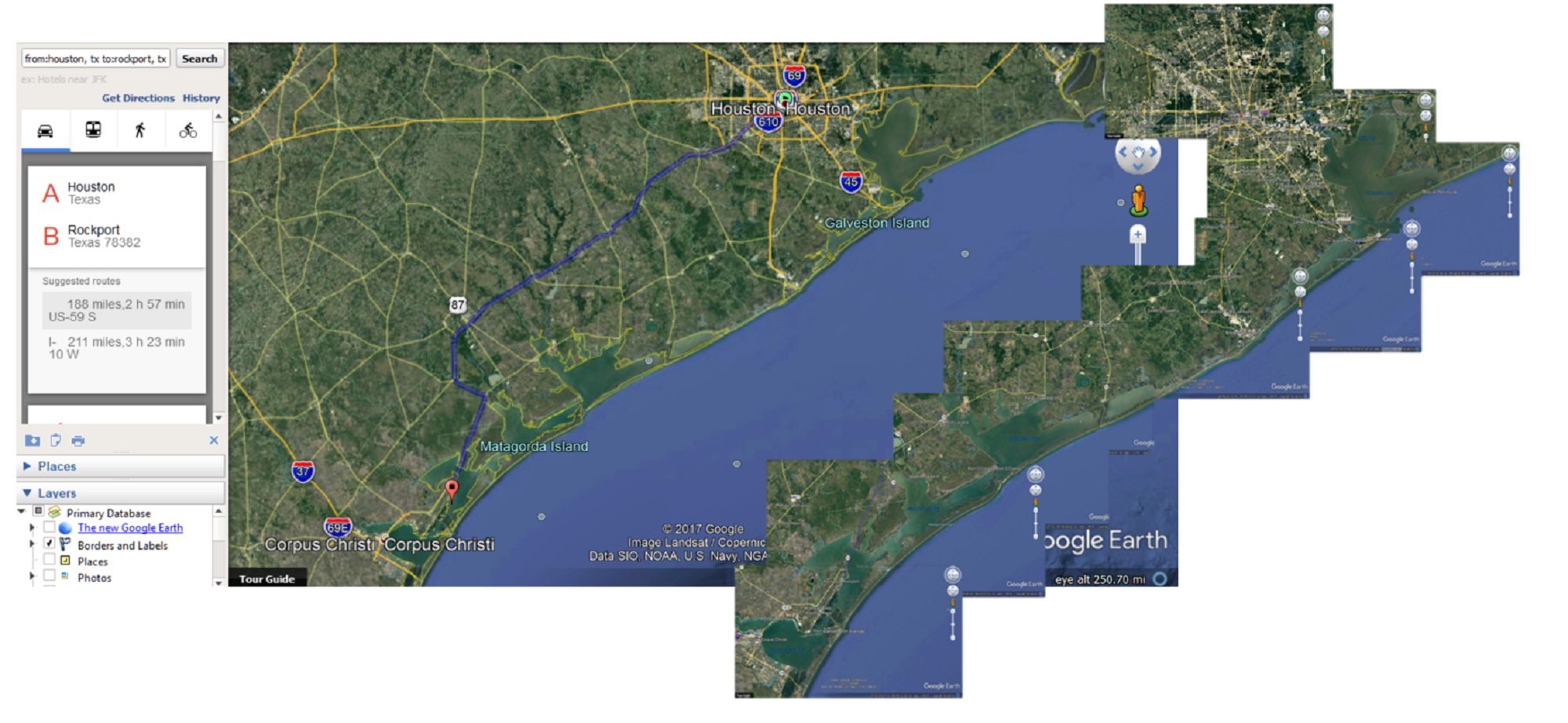 El Paso, Texas
September 8, 2017 10:46am CST
Thank you @Baya78 for making us aware that more help is needed in TX. She mentioned a couple small towns that were severely hit by Harvey yet the news media concentrated on Houston. The towns she mentioned are Rockport and Aransas near Corpus Christi As you probably know there is a great need for help in that whole seaside region between Corpus Christi, Houston and beyond but the media concentrated on Houston probably because it is the largest and most well-known city in the region. I tried to put together a map of the region showing the many names of the small towns in between the two large cities but to do that I had to zoom in close then cut and paste together the different screen prints, I did add the larger view of southeast TX. Oh, the source for the screen prints is Google Maps. I hope this helps give everyone who is not familiar with Texas a better grasp of just how large the area hit is. I know I know, I've already told everyone how different each part of Texas is so here's a view of Southeast Texas. Mother Nature is really ticked off at us, it's bad enough what Harvey did but now she's sending us Irma AND Jose. I don't know about you, but with the cost of everything increasing I'm not even going to think about buying presents for anyone, it'll be all I can do to feed my furmily and myself. How about you? For whatever it's worth, I'm praying for the whole southeast seaside areas that are affected by those hurricanes.
8 responses


• El Paso, Texas
8 Sep 17
You are welcome, but I wish the media would quit looking at the lucrative end of a story and go back to the beginning of it all, weren't both Rockport and Aransas hit many hours before it reached Houston? Could you write more about what is going on where you are? Just remember that if admin thinks you are asking for donations they will have to delete what you write, ok?

• United States
8 Sep 17
Yes, prayers from all of us are needed for all those in the path of these hurricanes.

• El Paso, Texas
8 Sep 17
I wish I could do more but I haven't the funds to contribute and heading that way isn't an option.

• United States
8 Sep 17
@rebelann
I thought the same thing. If my husband and I were younger, we'd go and help. I did donate to the ASPCA to help with rescuing the animals, not a big amount, but enough to help with food or whatever.

• El Paso, Texas
8 Sep 17
I couldn't donate much either
@Corbin5
it's so hard to help others when you don't have much to give.

• Holiday, Florida
8 Sep 17
i too have been praying for us all. thanks rebelann

• El Paso, Texas
8 Sep 17
Are you safe in a shelter of some kind?

• Holiday, Florida
8 Sep 17
@rebelann
no so far no evac here. daughter will know if we should i hope. she is the one i have to depend on

• El Paso, Texas
8 Sep 17
Surely she will know if you need to leave
@bunnybon7

• United States
8 Sep 17
I have no doubt the disaster picture is much bigger than what I'm hearing or reading about . . . hoping all are staying safe, the storms come to a calm, and that these cities/towns can recover very soon!!

• El Paso, Texas
8 Sep 17
If they still haven't fully recovered from Katrina I have little hope they'll recover from Harvey very soon.

• El Paso, Texas
9 Sep 17
Yeah, exactly
@much2say
The other thing that worries me are the fires in CA this time of year, they too can be very devastating, have they contained the one by LA yet?


• United States
8 Sep 17
It is heartbreaking and I have shared links about the smaller towns. I see you are in Texas, how far away are you and did you get any effects from the storm?

• El Paso, Texas
8 Sep 17
I'm at least 700 miles northwest of these storms, I'm much more concerned with the fires northwest of us traveling this way but that all depends on the winds and the ability to contain them.

• United States
8 Sep 17

• El Paso, Texas
8 Sep 17
Thank you
@Carmelanirel2
I'll do my best. I pretty sure those fires won't get down this far.



• El Paso, Texas
10 Sep 17
It sure is. Small wonder I don't envy those living in coastal regions.

• El Paso, Texas
10 Sep 17
Just be glad you're not there right now
@DianneN
I'm prayin she'll lose force as she hits land.


• Canada
9 Sep 17
The cost of gas has sky rocketed. The storms in the Caribbean and soon to be in Florida has been pretty awful too...and getting worse. I do know Texas is still in trouble...I'm thinking mother nature is mad at the idiot in Washington who says there is no Global Warming.

• El Paso, Texas
9 Sep 17
I don't think Trump is big enough for Mother Nature to waste her time on but I do believe she is pissed off at humanity for all the destruction they .... ok, we .... have done do her eco systems.

• Canada
10 Sep 17

• El Paso, Texas
10 Sep 17
You give him way too much credit
@PainsOnSlate
he's such a tiny man.


• Moses Lake, Washington
8 Sep 17
The gift of just being together is an old corny idea but I think its something to consider. Make it to Christmas in one piece and just be happy with that. I'm glad you are okay and hoping better days ahead for those in the path of storms.

• El Paso, Texas
8 Sep 17
Yes, I think this is the year retailers might not make much profit off of the holidays unless they are selling food and necessities for victims of these terrible storms.