Persuing Something We Love

Boise, Idaho
September 23, 2017 7:02pm CST
I am trying to be more postive in my life. Balancing my focus on some type work, play and love is very important. It is a day to day thing I must work at daily. Working hard on something you love can give you great happiness. Here are six ways to being happier in your life: 1. Discover what your strengths are. Use these strengths in your life. 2. Live with a positive mindset. Bring gratitude, mindfulness and hope into your thinking. 3. Exercise has a positive influence on your mood. A more postive mood helps you to feel better in your life. 4. Develop and cultivate kindness in your life. Being kind to others will give you a feeling of happiness. Being there for someone else and not just thinking of yourself is a very positive way to direct yourself. 5. Finding the activities and that which motivates you in your life. Like what you are doing and this will highten your happiness. 6. Having good friendships and a large network of close relationships is a positive way to happiness and fulfillment.
6 responses

•
24 Sep 17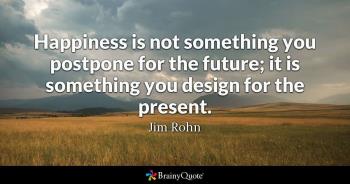 Sounds like you developed a plan for happiness that works for you. Thanks for sharing! I think your keys to happiness is similar to this quote I found on "brainy quotes."

• Boise, Idaho
24 Sep 17
Great quote. This plan is a work in progress.

•
24 Sep 17

• Boise, Idaho
24 Sep 17

• Canada
24 Sep 17
Good tips and the only thing I need to work on from your list is getting more exercise

• Boise, Idaho
24 Sep 17
I think we could use getting more of it.

• United States
24 Sep 17


A thumbs up for each and every one of those! Happiness, just like that beauty saying, has to come from the inside out. Staying positive and happy can only bring bump up your quality of life

!

• Boise, Idaho
24 Sep 17

• United States
24 Sep 17
How about milkshakes to feel happy? I love milkshakes..wait no, I love Malts better.


• Boise, Idaho
24 Sep 17
Yes, a chocolate malt would be delightful.

• United States
24 Sep 17
@celticeagle
Just had a smoothie from the blender..a banana one I made.

• Boise, Idaho
25 Sep 17

• Moses Lake, Washington
24 Sep 17
You can do it. How about do one teeny thing that is a grinner for you? Just you?

• Boise, Idaho
24 Sep 17

• Waikoloa, Hawaii
24 Sep 17
i love to pursue exercise but forget it couple of times