The Star-Spangled Banner (Flag) Symbolizes U.S.A. Not Trump!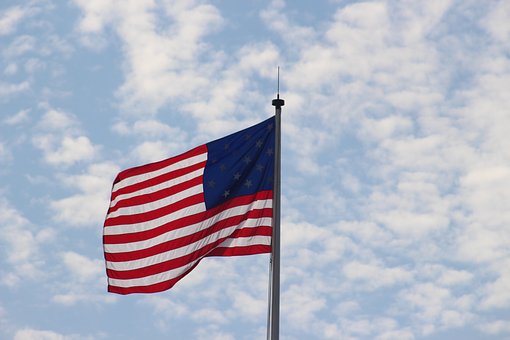 Calgary, Alberta
September 25, 2017 1:38pm CST
What does a national flag represent? A national flag symbolizes a country and its people. The star-spangled banner (flag) is a symbol of a great country, the United States of America and the American people. It does not symbolize or represent President Trump! Those NFL players who knelt and those who remained in their locker room during flag ceremony before game started supposedly to show their disgust and hatred on President Trump were wrong. It showed how stupid they are. It is not surprising though because an NBA star player still insists that the earth is flat! The Star-Spangled Banner is not Donald Trump, stupid athletes! Do you think what they did is right/smart or wrong/stupid?!
9 responses


• Calgary, Alberta
25 Sep 17
@Asylum
NFL player Villanueva, an Afghanistan veteran soldier, defied his teammates by leaving their locker room to proudly stand at attention during flag ceremony to show his respect to the American flag. He was proudly standing all alone. A man proud of his country and understands that the star-spangled banner is all about America not Trump.

• Manchester, England
25 Sep 17
@antonbunot
That is definitely to his credit and he has earned my respect by that act.

• Calgary, Alberta
25 Sep 17
@Asylum
And I just read an article that his jersey are selling like hot cakes right now. . . This is to show how people respect this man. And the NFL game of these players got the lowest NFL rating ever.


• United States
25 Sep 17
Well, I wish all those who play sports and make millions of dollars due to playing those sports in the USA would use some of those millions to help those for whom they are kneeling.

• Calgary, Alberta
25 Sep 17
@Corbin5
I don't think they are kneeling to show sympathy to anyone . . they knelt because they hate Donald Trump!

• United States
8 Oct 17
@antonbunot
The first one to kneel did so before Trump was even elected and it was to protest the injustice against African-Americans. We can debate and argue about whether he went about it the wrong way but there's no doubt he had a point. He's not currently playing and Trump just brought the issue up out of nowhere, saying anyone who took a knee should be fired. If those who knelt hate Trump, hey take a number, but they did it in solidarity against a POTUS seeming to think he could take away their free speech rights.

• Calgary, Alberta
9 Oct 17
@anniepa
Well, I respect your point. . But disrespecting a flag is stupid way of protesting the supposed injustice (by police) against black Americans. There is a better way to protest for/by these boneheads - - like going together to demonstrate in front of the white house. Donald Trump is right in scolding them.


• Redlands, California
25 Sep 17
How were they disrespecting it? Looked to me they respecting it more than anything by saying. Houston we have a problem and the original kneeling or sitting was to do with police violence and racism. Which now has to do with Trump because he verbally attacks a citizen by calling them a SOB. The bigger problem is people letting and or defending Trump disrespect the flag by being the leader of the free world and acting like a spoiled 5 year old with hate in his heart for people who are not the same skin color as him. Astounding how people see symbols over people's bad actions.

• Calgary, Alberta
25 Sep 17
@crossbone27
Well, if you think kneeling or not coming out from the locker room to attend flag ceremony before a game is not a sign of DISRESPECT to the symbol of your country and American people . . I would say you have the right to your own opinion, but I have also the right to say my opinion that it is not right . . and it is dumb thing to do. I don't care whether your president is acting like small kid . . Show your love to your country by respecting its symbol. Show your hatred to your president by peaceful demonstrations not by disrespecting your star-spangled banner.

• Redlands, California
25 Sep 17
@antonbunot
You are right, we have our own opinions which is fine, but find this small minded thinking sad. No problem with police killing unarmed people kids, adults, it does not matter. No problem with a President who does appalling things on daily basis that would get most people fired from their jobs and smacked by their parents. I am more offended these people stood up for their free rights which is protected by our Constitution. Nothing brave here, just standing up for the worse the country has to offer instead of the best.

• Calgary, Alberta
25 Sep 17
@crossbones27
I think you don't understand my point. All American citizens have the right to protest against what your president is doing BAD, But protesting against your president by DISRESPECTING the symbol of your nation is dumb decision. Your 5-star spangled banner does not represent Trump. It represents the USA and American people. I hope you got my point.


• Roseburg, Oregon
25 Sep 17
The players have a right to do what they want that is what freedom is all about.

• Calgary, Alberta
25 Sep 17
@story07
They have the right to do whatever they want to do . . I understand that. But disrespecting the national flag, a symbol of a great nation, is plain STUPID . . That is my point.

• Johannesburg, South Africa
30 Sep 17
I am amazed how many are uniting in their hate for one man. I just know that America has never been so united and so torn apart at the same time and I worry for all my American friends who I know love their country.


• United States
18 Oct
I just had to revisit this discussion after what I just heard about the so-called "Commander-In-Chief" who pretends to give a damn about our flag, our National Anthem and our soldiers and veterans. Donald Trump supposedly called the families of the four Green Berets who were killed in Niger One of the widows, a young woman with two small children and six months pregnant with a third, was in her car coming from meeting her husband's remains near her home near Miami, Florida and unbeknownst to Trump he was on speaker phone and the woman's Congresswoman was in the car with her. He said, "He knew what he signed up for." She'd just been told there couldn't be an open casket, that she couldn't see her husband's body and he said something that cold and cruel to her. This just makes me realize how stupid and petty this whole argument is and how disgusting it is that this ignorant sociopath without an ounce of empathy could get away with exploiting our military the way he does when it's obvious he doesn't care about them or anyone but himself one bit. Let's talk about something serious, something important, like how to get him the hell out of there!

• Calgary, Alberta
18 Oct
Well, the title of the post is a serious subject. You just hate the man that is why you think this discussion is insignificant.. Come on, move on, he is your president. until he gets impeached . . If ever it happened. But it appears lots of Americans love his policies/agenda . . wall, tax reform, illegal immigrants . . and so on. He just got a bad attitude and lacks finesse.

• United States
19 Oct
@antonbunot
I'm sorry but he will NEVER be "my" president. He's got a lot more than a "bad attitude" and he lacks a lot more than "finesse", with all due respect. And it's mainly his very small and shrinking base that love his policies and many of them don't really understand them or they wouldn't. I didn't mean to imply that this discussion is insignificant. It's obviously a topic that people are talking about and that's what we're supposed to do here, isn't it? I sure hope I didn't offend you because that sure wasn't my intention. I sure won't try to deny my intense hatred for this man and I've never felt this way about any POTUS or any politician at all for that matter. I've disagreed with plenty of them about many things but I never felt they were unworthy human beings which is exactly how I feel about Trump. After hearing how he treated that Gold Star widow I'm totally convinced he has no humanity. When I just happened to come back across this discussion right after hearing that news it made me realize what a sick joke it is for someone like him to be making an issue about respecting the flag and the anthem when he so clearly has no respect for our troops or even our fallen heroes and their families. Soldiers like those four who were killed in Niger didn't die so football players wouldn't have the right to kneel or sit or remain in the locker room during the National Anthem. They fought for the rights of all of us and that includes those who chose to use that platform to protest the injustice that still exists in this country. It doesn't mean they don't love their country it just means they want to make it better. That's what it's all about, isn't it? People don't love someone or something because they're perfect but they want to help those people and things they love be the best they can be. I'd rather have a President take a knee during the National Anthem and treat the wife and mother of a fallen soldier with empathy, compassion, sympathy and respect than what we have. That's what I was getting at, I didn't mean to belittle your discussion or choice of topics.

• Calgary, Alberta
19 Oct
@anniepa
hahaha, he will never be your president! He does not care at all . . He is the president of the USA!



• Philippines
25 Sep 17
Any citizen of any country should respect the flag.

• Calgary, Alberta
25 Sep 17
@acelawrites
That is right! If athletes do this stupid act in the Philippines, they are herded to prison or even worse.

• United States
9 Oct 17
@antonbunot
Don't worry, if Trump could have them all shot and get away with it he would.

• Calgary, Alberta
13 Oct 17
@anniepa
I don't think Trump would go to that extent . . . He is all blah-blahblah . . . hahaha


• United States
26 Sep 17
No it's not about Trump, it's about showing respect for those who served and are still serving. I don't understand how it all became about hate and Trump. These athletes are spoiled brats.

• Calgary, Alberta
26 Sep 17
That is my point
@Susan2015
. . But some people don't understand. My point is don't protest against what Trump is doing or saying by DISRESPECTING the national flag.

• Walnut Creek, California
3 Dec
A bunch of millionaires kneeling to protest a fellow millionaire, and the Country that gave them the opportunity to become millionaires because of their skills, in spite of many of their humble beginnings? And the whole thing spearheaded by a millionaire who grew up with white privilege and loving parents, demonstrating how great America can be? I find it all confusing.