Sept 27- Someone tried to sign in my Gmail account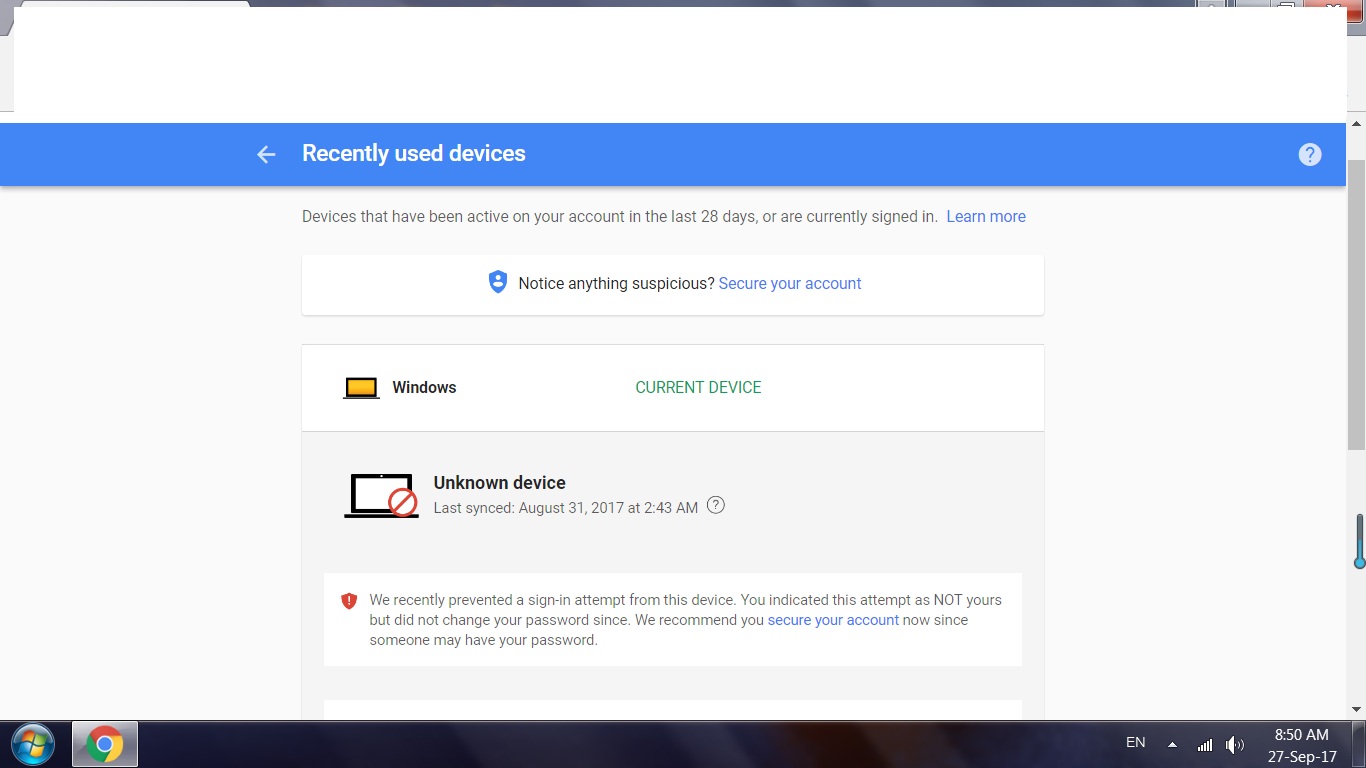 Malaysia
September 26, 2017 7:59pm CST
I had just turn on my laptop and Google prompt a message immediately that had shocked me. This message appeared: Google prevent a sign in attempt from an unknown device; Columbus, OH, USA - August 31, 2:43 AM I was glad that Google sent me this important alert message because I am residing in MALAYSIA, so how could I sign in from USA, right??? My Gmail account was almost Hacked by a stranger. I log in with my password and Google suggested that I should change my password and remove any websites that requires my email, which I did. Thankfully that my Gmail account is safe now. What would I do without Google ??! Have you ever receive Google Alert Notifications or message? My photo: Screen shot from my laptop
10 responses

• Italy
27 Sep
Yes, it happened to me before. I changed password as suggested. However, the message said they prevented someone from accessing, so I felt quite safe, it should mean they couldn't manage to log in.

• Malaysia
27 Sep
Yup it did, it also has the function of contact the owner if sign attempt is not from the device right?

• Italy
27 Sep
@peachpurple
Yes, I think you receive that message as soon as someone attempts to access to your Gmail account.

•
27 Sep
Yes, it is a good idea to change your password from time to time. Glad they warned you!

• Malaysia
27 Sep
yes, it is about time, I had forgotten when was the last time I changed the password

•
27 Sep
Yes it is a good idea to change the password often



• Garden Grove, California
27 Sep
someone from Phoenx arzona triedf to sign in to my pauypal account amd they notfied me asking if I had gone t o Phoei x as tjey would not let tje stramger in we changed my password right there tje paypal lady helped me and I was not hacked

• Malaysia
27 Sep
thanks for reminding me, I need to change my paypal password today

• United States
27 Sep
No thank God I have never been hacked.

• Malaysia
27 Sep
Luckily for you, how often ypu had changed your password?


• Malaysia
27 Sep
Good practice, I have to remind myself then

• India
27 Sep


•
27 Sep
I have not had this happen. Sorry it did to you

• Waikoloa, Hawaii
27 Sep
oh my god thats what im asking in one of my post do you read it ?? maybe you gave your password in unknown websites?