The Worst Thing about 2017's ''Beauty & the Beast''? ... Gaston!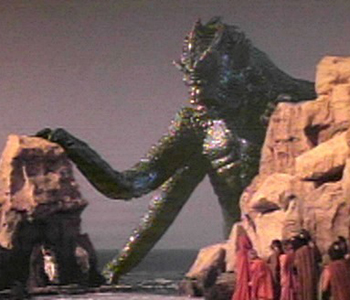 Oklahoma City, Oklahoma
October 5, 2017 12:40pm CST
Oh, it's not Luke Evans' performance that ruined it ... well, not specifically ... See, Gaston was supposed to be huge. You know, kinda like Bluto (from Popeye), a real titan (like The Kraken (see picture) ... on a slightly smaller scale, but still able to believably battle The Beast hand-to-hand, rather than be a flimsy nothing without his gun). But I saw 'the new Gaston's insufficiency' in the performance of "The Mob Song" https://youtu.be/TYO-qEb6MnI where the voice of 'the original Gaston' was appropriately operatic, where Luke Evans' voice was more like 'a boy-band member calling us to fight for the right to parrrr-tee' or 'a street-dancing gang-leader calling on the rest of "The Jets" to beat up "The Sharks."' What Disney Studios should've done---the should've CGI-ed up Luke Evans so he really was "rough-ly the size of a barge," and should've auto-tuned his voice (in "The Mob Song") to sound more like an operatic aria. you think?
2 responses

• Agate, Colorado
5 Oct 17
I agree. Gaston should've been more of a threat and looked like it

• Preston, England
7 Oct 17
The picture threw me - Wondered what The Kraken was doing in Beauty And The Beast lol

• Oklahoma City, Oklahoma
7 Oct 17
But you know what I'm saying, how Gaston should've been more like 'a giant' (like the WWE's Big Show, but more 'muscular' and not so fat-lookin)? almost like he & The Beast were mythological gods, so their 'finally meeting in battle' would be more epic

• Preston, England
8 Oct 17
@mythociate
not actually seen this version of the film so not really able to agree or disagree