What's for dinner? November 2

United States
November 2, 2017 4:32pm CST
What's going on the dinner table tonight? I want to know! I am trying a new recipe this evening: Pork Pozole made in the Instant Pot. It is a lightened-up riff on a traditional Mexican stew with hominy from the Skinnytaste web site. I love getting pozole when I am in Cozumel and have been meaning to try to make it at home. I've had the hominy here for like a year now so all I needed to buy was the pork shoulder. It is supposed to take just 45 minutes in the Instant Pot which is great for a week night stew. You are supposed to top it with avocados and I do have them but they are still rock hard after buying them on Sunday. Maybe they will be ripe by NEXT weekend.

That's what's happening here. What are YOU having? Do tell!
https://www.skinnytaste.com/pressure-cooker-pozole-pork-and-hominy/
9 responses



• United States
2 Nov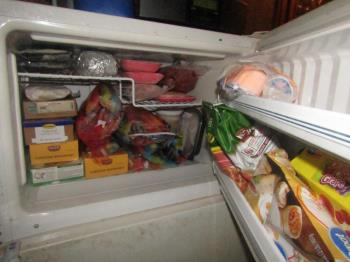 I don't know yet. I have a freezer full of foods, but they all require something they call 'cooking' before you can eat them...


• United States
2 Nov
@NJChicaa
Triple berry tartlets. There's also a gallon of homemade chili, a bag of chowder, some pork cutlets, and several other 'goodies' in there. Boss cleaned out his freezer and gave me all that yesterday.


• Dallas, Texas
2 Nov
Sounds good. Rock hard avocados is not a good thing.

• United States
2 Nov
I don't know why they don't order them in advance and then let them ripen a bit in the back before putting them out. As a customer, I am seriously pissed off. I wasn't expecting to use them the day or next day after purchasing them, but not being able to have them 5 days later? That is absurd. Now I have to buy my avocados 2 weeks in advance?

• Los Angeles, California
2 Nov
Chicken chili on a cool evening.

• United States
2 Nov
I bought something In the mexican section of the store. Just forget right now.

• Colorado Springs, Colorado
5 Nov
Lets see. This was Wednesday. I think we had leftover beef stew. Homemade.

• Green Bay, Wisconsin
3 Nov
I had a turkey leg for supper. I know it's not much, but I also had eggs and two baked potatoes when I got home from my daughter's. So the turkey leg hit the spot.


• Cuyahoga Falls, Ohio
2 Nov
That sounds interesting. I had hot dogs with Aldi's Crunchy Circles for dinner. Bolthouse Farms Green Goodness smoothie to drink. I'm doing ice cream tonight for dessert.