Weird Word Wednesday!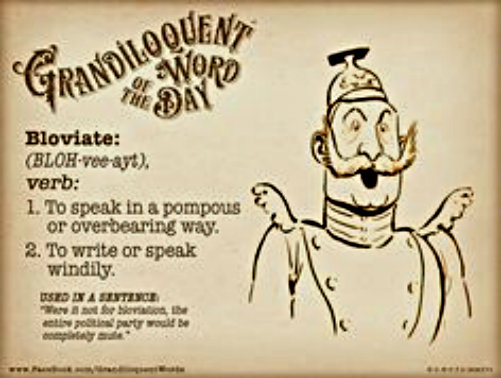 United States
November 8, 2017 7:38pm CST
I host a fun and positive public Facebook page. Every Wednesday night, I share unusual words (with definitions of course) for "Weird Word Wednesday". I'm a word nerd. I can't help it!

Are there any other vocabulary fans on MyLot? I am going to start sharing my weird word choices here too. Have you ever heard this one: bloviate? Do you know anyone who is guilty of doing this? Do you ever do it?


7 responses

• Uzbekistan
4 Dec
You can subscribe to 'word of the day' at dictionary.com

Today's Word of the Day is Xanadu. Learn its definition, pronunciation, etymology and more. Join over 19 million fans who boost their vocabulary every day.

• United States
4 Dec
Great! I love resources like this. Thanks
@MALUSE
!

• Uzbekistan
4 Dec
@BloggerDi
If you actively incorporate these words into your spoken language, people will consider you strange, heehee.

• United States
4 Dec
@MALUSE

Okay, I'll try to avoid doing that.

• Cambridge, England
22 Nov
I'm afraid that I can be bloviatory occasionally, though I and what friends I have would probably call me euphuistic or fustian and, perhaps, even orotund, though I would never apply the latter adjective to my vocal propensities, which, unfortunately tend toward the sound of a badly-played clarinet rather than the sounds which a competent basset horn player could produce! If you wish to be any of the above, by the way - and it can indeed be quite entertaining, if only from one's own point of view - I suggest that you read Mr. Dickens' novels (for he is a past master at turning it on for some of his characters) and never use one syllable when three will suffice. Naturally, if you want to study orotundity, you could have no better model than Dame Edith Evans as Lady Bracknell in "The Importance Of Being Earnest". I have to say that Dame Judi Dench does it quite well though her voice is rather less orotund than Dame Edith can be.. Here's a clip of one of the best scenes, though it doesn't, regrettably, include the 'Handbag' speech (which very few actors have managed to emulate over three whole octaves in the manner that Wilde clearly intended and which Dame Edith accomplished to the devastation and despair of every actor who has attempted the part!):

The Importance of Being Earnest Segment

• Cambridge, England
22 Nov
Incidentally, there is a reference to Bunbury, a fictional and useful friend of Algernon's who gave rise to the verb 'to bunbury'. Wikipedia will tell you more. Here is the 'Handbag' scene, though unfortunately, only the sountrack with still images:

John Gielgud & Edith Evans as John Worthing and Lady Augusta Bracknell in the famous 'handbag' interrogation scene in the play by Oscar Wilde I feel Edith Ev...

• United States
23 Nov
@owlwings


Love it. Thanks for sharing this great clip! (You'll notice that I am purposely avoiding orotundity!)

• United States
23 Nov
How wonderful to learn the new words! I appreciate your great response, although I'll agree it's euphuistic. It made me smile! The clip is a perfect example. I so enjoyed it! Thank you
@owlwings
.


• Eugene, Oregon
9 Feb
I don't, but I am a fan of words. I worked with a bozo who accused me of bloviating about something, so I really showed him how to do so.


• United States
9 Feb

Tell it like it is
@JamesHxstatic
, in an obnoxious way- just because you can! Give Bozo something to remember.

•
9 Feb
I have never heard of bloviate and that is cool how you want to expand your vocabulary.

• United States
9 Feb
Hello
@Hannihar
. Thanks! Sometimes I refer to myself as a word nerd. I'm a writer and I just love almost anything about words.

•
9 Feb
@BloggerDi
Diana. I am happy for you that you want to learn different words all the time.

• India
9 Nov 17
It is soo much fun to get to learn and know about new and weird words. It also helps us to enhance our knowledge. It would be a great idea if you start your Weird Word Wednesday on mylot! ??

• United States
9 Nov 17
Thanks very much
@cabhay
! Yes, I plan to continue it every week here.


• Malaysia
9 Nov 17
It sounds fun to have the Weird Word Wednesday! I am not really a vocabulary fans, but I am always happy to learn any new words as English is not my native language, so learning more will help me to understand better when reading the English articles or blog posts. I have not heard of the word bloviate. After reading the definition, I wonder if I am the one who does that sometimes. I am quite talkative, but I try to remind myself to keep my words short and straight to the point.


• United States
4 Dec
Hello
@kaka135
. I apologize for missing your comment until now.

I can get very talkative too, especially on topics I care a lot about! I also need to pay attention and not bloviate for too long. I don't think I'm overbearing though, or use fancy words. But I repeat myself sometimes or just talk for too long.


• United States
9 Nov 17
Thanks
@qt4u2h8
! So glad you enjoy words too.

I talk a lot too sometimes, especially when I feel emotional about a subject. I hope I don't become "overbearing" though! LOL