Sure a fortune teller with a crystal ball... but Jesus?

United States
November 14, 2017 10:44am CST
Have you seen the Salvator Mundi by Leonardo Da Vinci? I haven't seen it in person but I have seen photos of it. Its quite amazing to look at and something I'd love to be able to see in person. Its a painting done representing Jesus Christ. In it, he is seen holding a clear crystal ball/orb that has 3 little specks of light in it. My first thought was representative of the Trinity? but other images there might be more? . I know Crystal balls are seen as a tool for seeking divination; something that seems to be a "no no" for many Christians. However, in medieval times a crystal ball also represented healing, cleansing, infinity, unity, and so much more. Is that why its in his hand? But what do you think it means? Does this representation of Jesus mean anything to you? Link for more information / Visual representation of the art piece:

From Wikipedia, the free encyclopedia Jump to: navigation, search Salvator Mundi Artist Leonardo da Vinci Year c. 1490–1519 Type Oil on walnut Dimensions 45.4 cm × 65.6 cm (25.8 in × 17.9 in) Location Private collection, New York City Salvator Mundi is a p
6 responses


• United States
14 Nov
Well because I haven't been there to take a picture of it! (I don't think they would let me anyway, since flashes can ruin some of the old inks). It just seems so wrong to use someone elses work, when its not mine, you know? Kind of like plagiarism of the digital photo world. I can provide a link if thats acceptable?!

• United States
14 Nov
@MALUSE
I know.. but it still doesn't feel right. :( Especially as you said, its one copy and paste of the painting name and anyone can find it on the internet!


• Toccoa, Georgia
28 Dec
The Bible has verses against and warning against fortune tellers. So, to me it is a fake representation of the real Jesus Christ.

• United States
28 Dec
that makes sense. So is the image of the last supper or other church sanctioned paintings by him fake too?

• Toccoa, Georgia
28 Dec

• Boise, Idaho
15 Nov
da Vinci was quite the artist. Means nothing to me. I don't believe in him at all.

• United States
28 Dec
Thank you for sharing your thoughts!

• Boise, Idaho
28 Dec
@Daelii
......Thank you for receiving them so nicely.


• United States
28 Dec
beautifully said! so much has been forgotten over time. I can't help but wonder what we could be missing. is there something here?

• Green Bay, Wisconsin
14 Nov
I've never seen it. Jesus was no fortune teller.

• United States
14 Nov
Its not a very popular piece but it is rather interesting to be able to see it. I really would love to be able to actually see it in person, since there is suppose to be a very good play of lights filtering in the piece.

• Oklahoma City, Oklahoma
1 Feb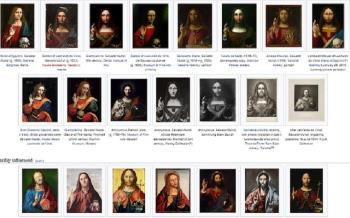 I think it's a representation of 'the Son of Man' holding "the whole world ... in his hands. (He's got the Whole-- World ... in His hands.

)" It's not so much an 'action in life'-piece (like "The Last Supper"), but more like 'the avatar we imagine he would have' (on Facebook or MySpace or here on myLot or on Yahoo!) ... a representation that's been made in many slightly different ways