Weird Word Wednesday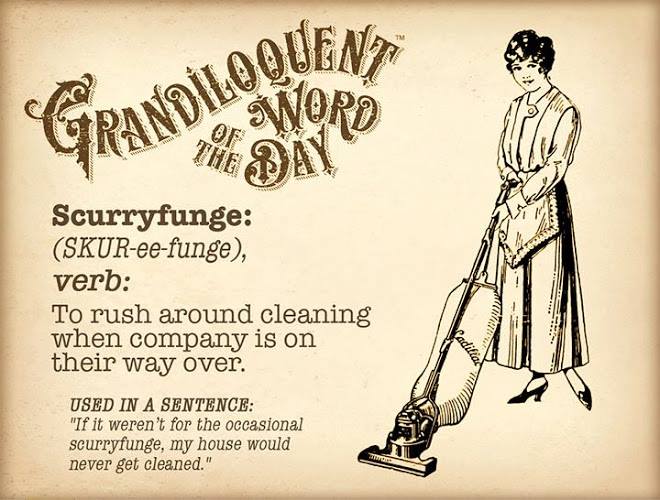 United States
November 22, 2017 10:17pm CST
Tonight's weird word seems especially timely for those of us in the US who are preparing for Thanksgiving! I'm fairly relaxed at the moment, but Sunday morning, I'll be scurryfunging, I'm sure! Our two kids and their families are coming over for the Thanksgiving feast this year. We're hosting it on Sunday, since they will be spending time with their in-laws tomorrow. This is a great word, isn't it? A fun one, in my opinion. Fun to say, not so fun to do.

9 responses

• Malaysia
30 Nov
That sounds very familiar.

I guess I am somewhat guilty of that, although we don't really have guests over very often.

• United States
30 Nov
Some people have everything clean and in perfect order in their homes at all times. But I think most people don't! Like me and you.

Thanks for your comment
@cahaya
.

• Malaysia
30 Nov
@BloggerDi
Yes! Sometimes people go like "Oh wow everything's neat and tidy in here!" and I'd tell them it's just an optical illusion.


• El Paso, Texas
23 Nov
Oh I like that word only in my case I'd probably mispronounce it. Scurryfunge, hmmmmm, I'm not guilty of that but maybe I should be.

• United States
23 Nov
I don't worry too much either. I just scurryfunge a little, especially when the kids are coming over. They don't care if the house is a bit messy. :) Thank you
@rebelann
.

• El Paso, Texas
23 Nov
I think if I had kids they'd avoid my house
@BloggerDi
That could work cuz then I'd go to theirs.

• Philippines
27 Nov
You are right there

But cleaning should be done even once in a week?


• United States
27 Nov
Yes, but my husband and I tend to leave clutter around the house too often.

He does it more than I do! Haha, I'm passing the blame, but it's true.

Thanks for commenting
@renicemae
.

• Philippines
30 Nov
@BloggerDi
Haha. I guess that's just the nature of men.


• United States
7 Dec
Wow sounds like you had a busy day! Hope it went smoothly

• United States
7 Dec
Hi
@Frenzys9
. Thanks! All went well. The food was wonderful (my husband was the main chef) and we had a lot of fun. I have 3 granddaughters, ages 5 and under. They make any get-together festive!




• Moses Lake, Washington
23 Nov
That almost sounds like a dirty word or an insult.

• United States
23 Nov
Oh my! Now that you mention it, it does!

Thanks
@sallypup
.

• United States
23 Nov
Scurryfunge..sounds good to me!


• United States
23 Nov
Thank you
@UmiNoor
. I agree, Even though I like the word, I'm not really likely to use it.

• United States
1 Dec
Ah ha ha... I didn't know there was an actual word for this :-)