Scriptural Balance Goes for Hard Sayings ... but Why Not for "Soft"? @CharlesCapps1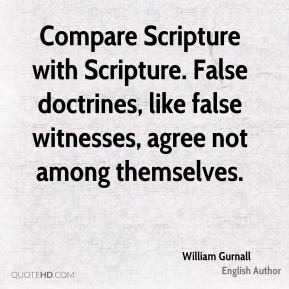 Oklahoma City, Oklahoma
December 3, 2017 10:23am CST
In the video below, Bible-teacher Charles Capps explains that some of the things "the Bible says" are hard sayings---they are "statements in the Bible," but they aren't really 'what the Bible says.' (He gives examples like 'when a congregant of the early church said he sold his land and gave all the proceeds to the church' (and you can 'hear' that as "The Bible saying he gave all the proceeds to the church," when he actually (the Bible also says) only gave the church 'part' of the proceeds. https://youtu.be/2IkXS0ejh6E (Another, more-common example comes from the Hebrew not making any difference between 'making something happen' and 'allowing something to happen: e.g. God didn't really 'harden Pharoah's heart,' but God 'let Pharoah's heart be hardened'; (Or the main example Capps give us: God didn't 'force the sighted people not to see nor -the hearing people not to hear'; but the people chose not to see or hear!) That's why Capps tells us to--when we read 'something in the Bible that doesn't sound like "something the Bible would say" (usually in the Old Testament)'--to check it against 'other places it's mentioned in the Bible' (usually in the New Testament). And he mentions how Jesus tells us (at least twice, Matthew 18 verse 16 and -verse 19) how 'two or more witness' is "proof." This shows me why I always feel like 'adding to' the message when people post "feel good'-scriptures: because they are "only one true witness," verified by the false witness of 'a person's feelings.' Why don't people include 'proof-Scriptures' when they post a feel-good verse?
1 response

• Hong Kong
4 Dec 17
@mythociate
How I wish we could read the Holy Scirptures in its original language Hebrew for the "Old Testament" and Greek for the "New Testament" my friend.


How sure are we that the translation that we are reading are accurate translation of the original my friend?


• Oklahoma City, Oklahoma
5 Dec 17
That's why I watch Shepherd's Chapel (a church in Gravette, Arkansas, that buys air-time to broadcast a "Chapter-by-Chapter, Verse-by-Verse Bible-study" all over the world) - often referring to Strong's Concordance (sort of a dictionary of Greek- & Hebrew words used in the Bible)
Watch TV series and top rated movies live and on demand with XFINITY Stream. Stream your favorite shows and movies anytime, anywhere!

• Oklahoma City, Oklahoma
5 Dec 17
That (making sure I'm talking about the original Bible-text) is why I like to use BibleHub Interlinear when I'm referring to specific verses, But something about it that kinda puzzles me is 'its frequent use of "punctuation"' when I've heard that the original text didn't have any punctuation ...

Bibe Hub Homepage Interlinear Bible Greek, Hebrew, Strongs Greek Interlinear Interlinear Chapters Interlinear Verses Fonts Parsing Guide Apostolic Bible Polyglot Greek Study Bible Hebrew Interlinear Interlinear Chapters Interlinear Verses Fonts Parsing Gui

• Oklahoma City, Oklahoma
5 Dec 17

Thus, for example, Ephesians 1:3-14 (one extended sentence in Greek) is divided into three sentences by the KJV, and up to fourteen or so sentences by some of the modern simple language translations. But this punctuation is a matter of editorial choice. Th