wearing frocks with high waist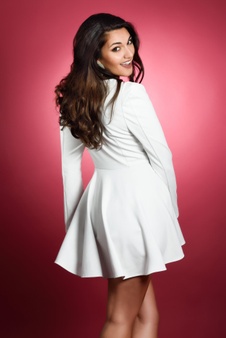 Hyderabad, India
December 6, 2017 10:40am CST
I have noticed recently that many ladies are wearing nowadays frocks. Earlier they were looking good when they were worn at waist height. They were also looking good at wearing at low-waist. They were all looking good and decent. Surprisingly, the ladies started wearing them at the high waist which is looking very odd. Though they think that it is a fashion it is actually not looking fashionable. They are actually showing their belly in that dress. Still, they are not realizing it. Another thing is that the length of the frock is above mid-thighs. This is looking even odder and giving a very ugly look. Do you like wearing frocks at a high waist and above mid-thighs?
3 responses


• India
6 Dec 17
Well I normally don't bother about Women's fashion. Yet some of the things that they follow now a days are sometimes complex to decode. May be they are themselves judge as to what and how to wear. Some also do learn by trying such dresses, and improving as time goes.

• Canada
7 Dec 17
I don't like the dress in the picture and so, if I was a woman I would not wear it.