Spotify Wrapped Up!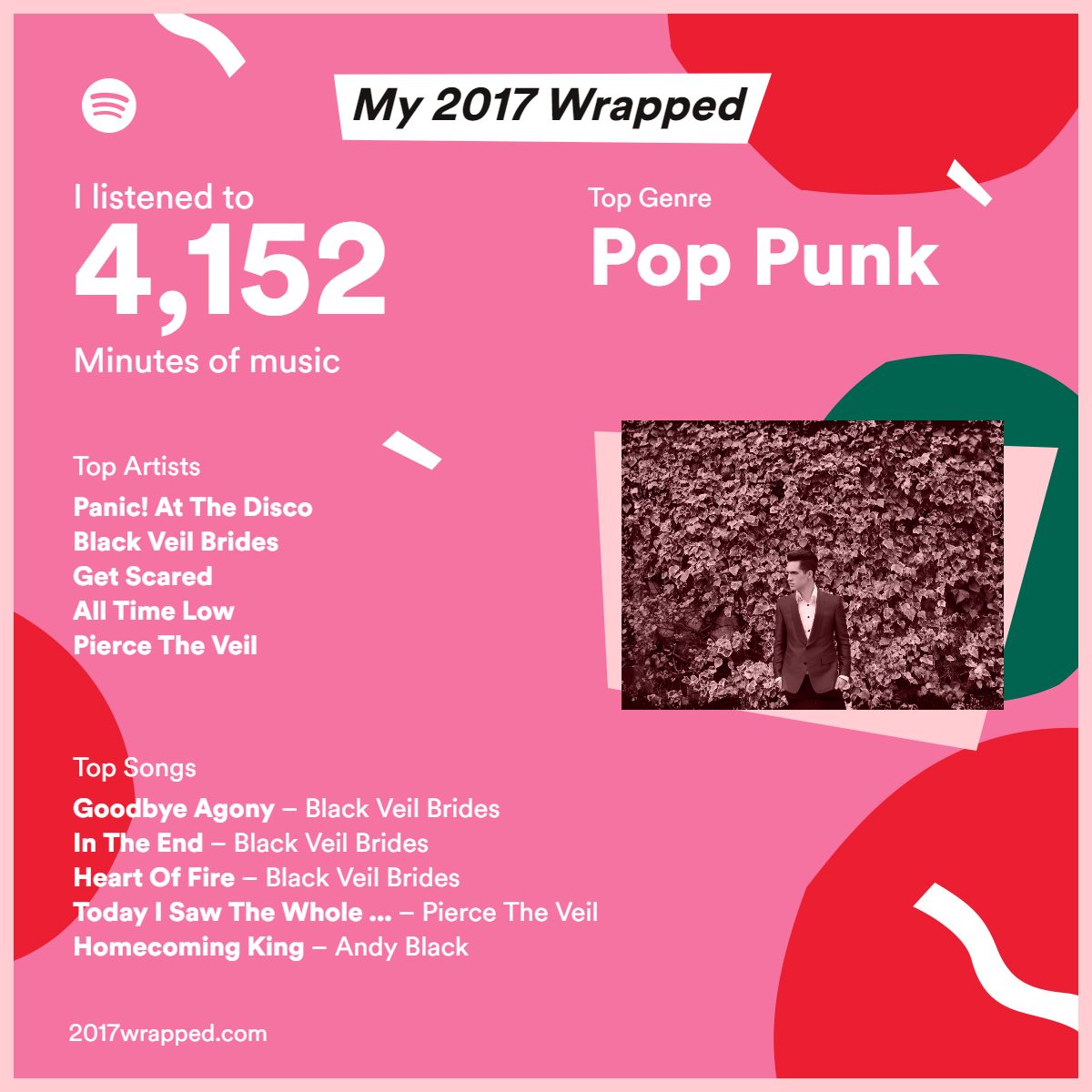 Peoria, Arizona
December 6, 2017 6:40pm CST
I have used Spotify for a while, but took a break from it because I liked using Pandora. But I felt like I had more control with Spotify so I switched back to it a few months ago. And now the Spotify Wrapped Up is here telling me all the stuff I listened to this year. I liked this because when you go to the website, you have this little "quiz" That you do about yourself. It asks like what genre you think you listened to the most and what band did you listen to the most. And if you really know the music you listen to, it is easy, but it was kind of fun because I was almost stumped. You get 3 questions and one is the genre and it has a bunch of different genres that is kind of all what you listen to, but one is the top. And I had to battle between Modern Rock and Pop Punk, which a lot of pop punk bands can also be considered Modern Rock but then I remembered how much I listened to Panic! At the Disco and I was like...it has to be Pop Punk and I was able to get 3/3 on the little quiz to get to the screen that is shown in the picture. and if you didn't know...I like kind of really love Black Veil Brides, maybe just like a little, or a lot. I'm not sure. The fact that they dominate my Top songs and also Andy Black who is Andy Biersack the lead singer of Black Veil Brides is up there as well. So yeah...I...I likes them. I think this was a pretty neat wrap up. I really didn't expect anything else. I didn't know Pierce the Veil was going to be on there, but hey, I like them, so no big deal!
9 responses

• Ponce De Leon, Florida
7 Dec
I haven't used Spotify in a long time maybe I'll start

• Peoria, Arizona
7 Dec
I like spotify, the mobile app is a little irking, especially when there is no choice of songs sometimes, (but I also use free spotify so that makes sense) but at least there is a little more freedom and I like the little playlists spotify makes for their users to help find more music.

• Ponce De Leon, Florida
7 Dec
@DesirousDreamer
Once I get my laptop in a couple weeks, I'll have to check the website out. It has been a million years since I've used it.

• Peoria, Arizona
7 Dec
@thislittlepennyearns
That's good! I felt the same haha seeing that I started adding music in like 2011, I was like...good god this is weird haha


• China
7 Dec
Wow,you listened to 4152 minutes of music?

• Peoria, Arizona
7 Dec
Haha, that isn't even adding the amount I listen to on youtube and pandora.

• China
8 Dec

• Peoria, Arizona
8 Dec

• United States
7 Dec
I dont use either one, but thats kinda cool

• Peoria, Arizona
7 Dec
I think it is interesting to get a little reflection of music habits haah

• United States
8 Dec
I like Spotify. Black Veil Brides are a cool band. So is Panic! At the Disco. Although I'm not a huge fan of either, but I like what I have heard by them.

• Peoria, Arizona
10 Dec
They are my everythings haha I do not go a day without listening to either.

• Indonesia
7 Dec
I ve never used either one.

• Peoria, Arizona
10 Dec
That is fine, there are so many music outlets out there, people find what they like!

• Hyderabad, India
7 Dec
I will try it. I have not used it so far.

• Peoria, Arizona
7 Dec
I love spotify it is amazing


• Peoria, Arizona
7 Dec
It is pretty cool! I saw someone else do it so I decided to check it out.

• United States
7 Dec
I dont listen to as much music and I used to because I have it on while I drive.

• Peoria, Arizona
7 Dec
I sometimes prefer listening to music than watching anything. Less distractions, minus the dramatic bursting out into song when an amazing song comes on haha

• East Tawas, Michigan
7 Dec
I'm glad you're able to hear all those music groups, you enjoy the most!

• Peoria, Arizona
7 Dec
Heck yeah, music is forever.

• East Tawas, Michigan
7 Dec

• Peoria, Arizona
11 Dec
@kobesbuddy
I'll do little finger dances so I don't hurt myself haha