Starbucks article

United States
December 15, 2017 7:00am CST
I had mentioned in a comment about people getting upset over Christmas Starbucks cups again. I looked at the article again. The reason they are upset is because they think the video of the new cups are promote homosexuality. Last year it was because the cups weren't Christmasy enough. Here is the article:

The 2017 cup shows two interlocked cartoon hands. Some conservatives accuse the company of promoting a "gay agenda."
11 responses

• United States
15 Dec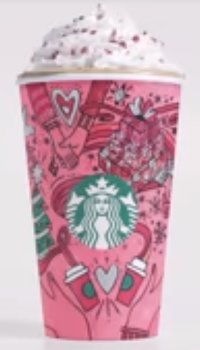 Maybe it's just me, but people that have the time to complain about this cup have entirely too much time on their hands

• Defuniak Springs, Florida
15 Dec
It's because people have to have something to complain about or they'd go crazy.



• United States
15 Dec
So many more important things to be concerned about than a Starbucks cup.

• United Kingdom
15 Dec
Obviously people have far too much time on their hands and want to be negative about everything. To be honest I would not pay any attention to these people who quite clearly crave attention!

• United States
15 Dec
This is what is wrong with us, we are finding ways to be offended at something that doesn't matter. I do not like Starbucks. That said, they can use any type of cup they want to put their product into. That is their right as a business. If someone is that offended at the cup I would suggest going somewhere else for you cup of coffee. And perhaps seeking some sort of counseling to see why a styrofoam cup sends you off the deep edge.

• Paradise, California
15 Dec
Somewhere Jesus is having a laugh riot.

• United States
16 Dec
It's amazing what people come up with to be upset. It would seem they could mind their own business and just be happy for a change.

• United States
15 Dec
It does not matter to me what the cup looks like. I don't go to Starbucks.