A snow day

Canada
3 responses

• Canada
27 Nov 06
Sit at home on my butt and rott or do laundry :) something indoor and warm hmmmm baking sounds nice....

• Canada
27 Nov 06
Sounds like you find ways to keep busy....where are my mince meat pies?

• United States
27 Nov 06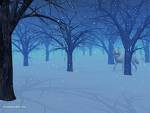 I am missing the snow. I have been living in the south where it dose not snow very often. I love to watch the snow falling. Some times you can hear it falling. I miss it being so cold and still that the air is crisp. to watch the snow falling with a hot cup of coco is one of my best memories

• Canada
27 Nov 06
also the crisp sound of your footsteps when walking on a new blanket of snow......what memories

• United States
22 Apr 07
I love the twinkling ice cycles and ice on the trees when the sun shines on them they look like gems. Thanks for best response.

• Canada
3 Aug 07
Right now we are having our summer right now.It is hard for me to remember the glistening of the snow and ice,but I am sure I will remember it with joy as the temps continue to rise.



• Canada
27 Nov 06
No problem!!Would you like the memory gift-wrapped?