Cats: The Ultimate Yoga Masters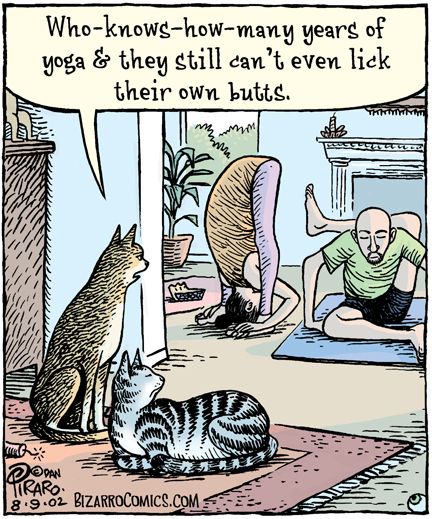 United States
April 25, 2018 4:11pm CST
Anyone who has had and still has cats comes to the conclusion that cats are indeed the ultimate yoga masters. They can get themselves into the most wacky positions possible, whether sleeping, cleaning themselves, etc. and are true contortionist. If we tried to get into those same positions we would probably be raced to the hospital. I actually did do yoga for many years but would never be able to achieve the same positions as a cat. And no, I never could lick my butt as this caption suggests..uh, not that I would want to.



8 responses

• United States
25 Apr
They do sleep in funny positions sometimes. My favorite is when they have their legs over their eyes like people do with their arms sometimes. I saw a cat on facebook that holds his own feet..Never saw mine do that..!

• United States
24 Sep
Oh this made me giggle cause yeah us humans probably cannot contort ourselves as felines do so it would not surprise me that is what mine thinks of me when I am in my yoga positions . . . Do you still practice yoga
@pyewacket
and hello btw

•
14 Jun
@pyewacket
Cats are very amazing and they can get into all kinds of positions and are very agile.

• St. Catharines, Ontario
27 Apr
I would try to copy the acrobats on TV when I was a kid, and apparently, I got "stuck" one time and my mom had to untangle me.


• United States
26 Apr
feebee's the only acrobat i have presently.she likes to roll around with her butt stuck up in the air.she's a weird lil girl.


• Los Angeles, California
25 Apr
They are amazing contortionists yet dumb enough to get stuck in a tree.