Favorite Girl Themed Songs Which Start With The Letter L- # 14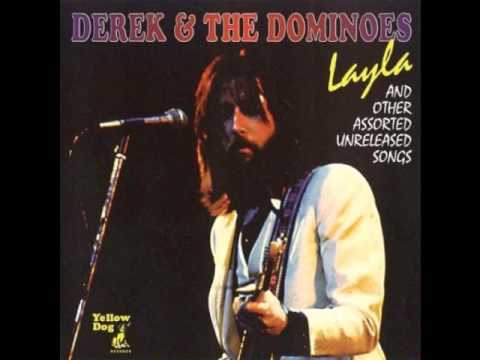 April 28, 2018 12:40pm CST
What a fabulous song to introduce some of my favorite L-themed lady hits. This song is about George Harrison's wife, Pattie. Clapton was seeing Pattie Harrison and deeply in love with her when he wrote this. The song was one of the tracks off Clapton's Derek and The Dominoes project, which included another famous guitarist on it, Duane Allman. Although released in 1970, "Layla" did not chart in the top ten until 1972 in both the UK and US. This was due to the album not being promoted using Clapton's name, no one knew Clapton was part of Derek and The Dominoes project at that time. Fun Fact- check out whose playing piano in the background on this live bring-down-the-house performance. Yes, that's right!!!! So, enjoy this beautiful, painful, passionate love song as you ponder today's song and artist clues. Here are the trivia clues: 1. This Jazz rock American group originated in New York City in 1967. The songs of the band merged the stylings of rock, pop and R&B/soul music with big band sound. Horns and brass were prominant in the music. Al Kooper was the group's bandleader and one of the initial founders who left the group over artistic differences with the other band members after their first LP. This resulted in a new lead vocalist, David Clayton-Thomas, joining the band for their 2nd album. The LP was commercially successful, achieving Album of the Year honors at the Grammy Awards in 1968. Fun Fact: The LP beat out the Beatles "Abbey Road" for the honor. The group's L-titled song off their 3rd record describes a woman of ill repute who will use men to get what she wants. The tune was inspired by some "evil girls" Clayton-Thomas saw while playing in some funky bars at the beginning of his musical career. A sample lyric : Never done a thing worth-while, You're just an evil woman-child. 2. A picture of a schoolmate chum with stars in the sky inspired this artist to write this L-titled song. Many people thought this was about drugs, since the writer was known to do LSD. This song was banned by the BBC (British Broadcasting Company) for what they thought were drug references. One could see how it might be about an LSD trip with references like "The girl with kaleidoscope eyes" and "Tangerine trees and marmalade skies." The band's album cover caused quite a stir as the group were surrounded by a collage of famous people. 3. This rock n' roll artist's music had an almost operatic quality to it. Critics nicknamed the muscian "the Caruso of Rock" and "the Big O". He co-founded the Traveling Wilburys, a rock supergroup. His concert attire featured dark sunglasses and black clothes. The song was performed by the artist for the Black & White TV special on Cinemax. Some sample lyrics: Gotta get a lot of oysters find some pearls today, To make a pretty necklace for .... Finally, I can't end today's quiz without mentioning a very popular British group The Kinks, who had a L- titled classic you might be familiar with....one of my favorite unusal sex gender songs, lol. One also used by many of our My Lot music posters here! There is our musical trivia today for L-named girl songs. Good luck and use those clues! If your stuck and need additional clues just let me know in your response. Glad to throw a few more hints your way and aid "your search of that lost chord" or in this case a forgotten song. Enjoy the continuing series, comment, check out the trivia answers and see if their your favorites too. And as always, thanks for reading my music post!!! Source- Wikipedia & songfacts.com Photo- chordify.net

1988. The Albert Hall. A charity bash. Eric, with the usual suspects, bursts forth with one of the best live performances of his opus ever recorded. Enjoy - ...
4 responses

• United States
29 Apr
Then Elton John covers #2 with the writer singing background (the B-side was a cover of one of his solo songs, "One Day At a Time") and takes it to #1 with no issues! That bonus song is good to enjoy with a c-o-l-a, cola....


•
1 May
That's why they nicknamed him "Hercules." Everything he touches turns to "Diamonds in the sky."

Yes, some c-o-l-a with a bit of rum can be a tasty drink,


• Canada
29 Apr
1) Blood, Sweat and Tears / ? 2) Beatles / Lucy In The Sky With Diamonds 3) Roy Orbison / ? 4) Lola

•
1 May
#1- was an evil gal named Lucretia. #2-

#3- Ah-hah I gotta go diving in the bay Gotta get a lot of oysters find some pearls today To make a pretty necklace for Leah Le-e-ah..... #4-


Blood Sweat & Tears ~ David Clayton Thomas, love his funky sound!

• Los Angeles, California
28 Apr
Lucretia MacEvil Blood Sweat and Tears Lucy in the Sky with Diamonds Beatles Leah Roy Orbison

•
1 May



If your picks were on a slot machine you'd have a 3 "Diamond" Jackpot. And Lucy would be impressed for sure!

• Hong Kong
28 Apr
@dgobucks226
Thank you for this discussion my friend.