How many ferrets own you?

United States
11 responses


• United States
30 Nov 06
Tried moving the poo thing, tried the puppy spray training thing. It's funny, because one used to use the litter box, he'd come all the way down 2 levels from his hammock to use it. Guess he's just being lazy lol. Planning on buying a new cage as well, this one's not very "user friendly" , doors aren't being enough.

• United States
30 Nov 06
All of mine use the box, though they do miss once in awhile. I have stick tiles in their cages, which protects their feet from wire and also is way easier to clean up. Have you tried putting blankets/comfy stuff in the areas they tend to potty? Sometimes that or food/water dishes in those areas helps. I scoop the boxes daily, then dump them every 2 days. Doesn't take too long, as long as the ferrets don't try and "help" clean.

• United States
1 Dec 06
We have one, His name is Strawberry Weasel LOL.. our cat's name is Milkshake lol they play together but our cat is getting bigger and Im afraid a little too rough... I would like to get another ferret for him, he is fixed. so babies arent my concern just afraid of inttoducing another ferret when he hasnt been around others for years.. we have had him for about a year.. and he was almost a year when we resuced him .. he was running around an apartment complex and no one came to claim him.. so now we have strawberry lol...

• United States
1 Dec 06
You never know! I've had several ferrets that were only ferrets, and they did great with other ferrets once I got them here.


• United States
2 Dec 06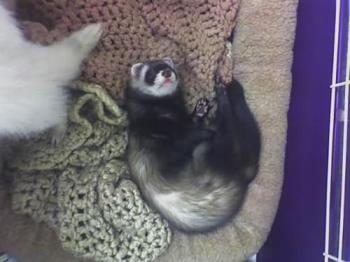 We have two. One is all white and is blind in one eye and deaf and the other one is brown. They are really funny. They have their own cage but we let them run around the house when we are home.

• United States
30 Nov 06
Haha! That made me laugh! I don't own any right now, but I used to. They were two sisters who got into everything. They could even open up my zippered purse with their teeth, and steal my wallet away. LOL! Their names were Skinny and Fatty. How silly! I was roughly 19 years old then. I would love to get another some day.

• United States
30 Nov 06
Thanks for your comment! Gotta love them..Mine steal all my stuff too!

• United States
28 Nov 06
i have two that i rescued from some horrible people. The boy is doing good but my girl is not gaining weight but she seems happy just skinny and furless they had flees. I have no idea of there ages. But they are slowly begining to own me lol. They are so fun and adorable. My 70lb dog would disagree he doesnt like those ferret games.

• United States
29 Nov 06
I'm glad you rescued them! I have one who was being fed dog food. Is it possible she has adrenal? Try duck soup - that will fatten them up! There are lots of recipes online. Basically it's Gerber Stage 2 Chicken and Gravy baby food, water, ferretvite. Mine likes theirs heated. You can substitute the baby food for real chicken.


• United States
10 Dec 06
Do you have more than one box? Sometimes in a big cage they really need 2-3. I put nice comfy soft things and or food/water dishes in places where they tend to go outside of the box. Mine always go in corners, so if you clutter up the corners it may help.


• United States
7 Dec 06
They are still illegal in CA. I know a lot of people have them there, but if they find out Fish & Game will take them.

• United States
10 Dec 06
omg I hate ferrets, i guess they are for some people and not for others my cousin had 2 and they stunk horribly its almost like having a skunk in yourhouse