Making Soup with Opa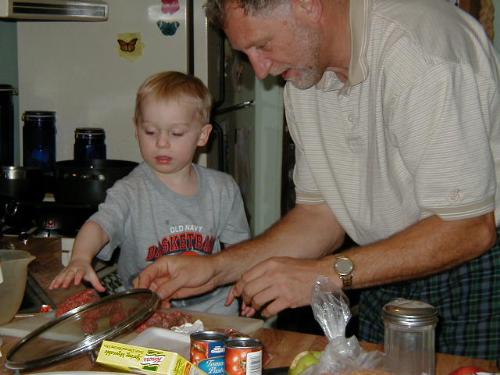 United States
December 6, 2006 1:01pm CST
When our grandson Troy spends time with us, one of his favorite things to do is make soup with Opa. Troy states that Opa's tomato soup is the best. Opa and Troy hand roll the meatballs for the soup. Troy will cut the baby carrots (using a butter knife) into smaller pieces. Opa cuts the onions, leaks and beef. With Opa's help, Troy scrapes the vegies into the broth. Opa stirs in the tomato paste. When the broth reaches the boiling point, Opa turns the stove off. Troy then adds the meatballs to the broth, one by one. Opa adds the beef. The soup simmers for about an hour. Troy will ask every 15 minutes or so if the soup is ready. He can't wait to sample the finished product. Finally, the soup is done. The table is set. Soup is ladled into the soup bowls and placed on the table to cool a bit. We sit down for our evening meal. Troy lets us know that he and Opa make the best soup in the world. I will have to agree.
2 responses

• United States
12 Dec 06
That is cool. I never knew you could make soup out of that.

• United States
12 Dec 06
We just had some nice tomato soup for lunch. My husband makes the best soup.


• United States
6 Dec 06
Troy loves to make soup. He will make a fine cook when he gets older.