Drew Barrymore

Canada
December 7, 2006 10:46pm CST
I just love drew barrymore, i think shes funny and pretty and seems to be pretty down to earth when she gives interviews, what do you think about her and whats your favorite movie that shes been in. Mine right now is 50 first dates with Adam Sandler
6 responses

• United States
19 Jan 07
She is awsome.. she seem so down to earth and an all around great person.. she seems like she would be a great friend.. i would love to meet her someday.. My all time favorite movie is "The Wedding Singer".. that is a great movie.. Adame Sandler and her were great in that movie. I was so happy to see when they made "50 First Dates" that is another one that i really like.. alot of her movies have been very good..she is awsome

• Philippines
11 Dec 06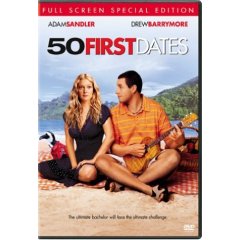 50 First Dates.. agine waking every day believing you were at exactly the same point in time, not being able to remember what you did yesterday, the people you met, the places you went to. Imagine being told every day that you suffered a terrible car accident that has left you without any short term memory. Well that's the life sentence that has been dished out to pretty Hawaiian school teacher Lucy Whitmore and no matter what the efforts of her loving father and brother; every day starts the same for poor Lucy. Henry Roth is the local veterinarian at the sea-life centre, a of dubious intentions to visiting tourist, but who falls head over heels in love with Lucy and even after realising her condition, makes it his life work to try to make some sort of relationship together. That's the plot setting of "50 First Dates" which sees the romantic comedy pairing of Adam Sandler and Drew Barrymore once again grace the big screen with their lovely brand of sweet sentimental romance. With any romantic comedy at the end of the day it's got the be the relationship the two leads can strike up that will make or break the film, and theirs is perhaps none better than these two, who play off each other wonderfully well and draw the viewer into their cosy smiley filled world. There's some great support too, most notably from Rob Schneider as Ula, the Hawaiian shark friend, although the sharks don't seem to repay the friendship. Sean Astin also chips in with a great turn as the bodybuilding brother of Lucy. There's also some other tiny parts that still raise more than a couple of laughs, the Chinese guy at the restaurant and Henry's sea-world colleague, Alexa to mention but two. Quick mention also for Dan Aykroyd who pops up as Dr Keats. There's really not a lot more to say other than any fans of the genre should check the film out and I'll challenge even the most severe of critics not to find something to enjoy in this. One final word for the ending which had the integrity and the honesty not to "cop out" and yet still wrap things up and let you leave the cinema or switch off the DVD player and let out a big "Ahhh"


• United States
8 Dec 06
I'm a big fan of Drew Barrymore. She just seems like she gets a kick out of life, and that's fun to watch. My favorite movie of hers is Ever After.


• United States
26 Feb 07
I agree with The first 50 dates as one of her best. She has recently been on quite a few day time shows promoting her new film Grey Gardens. I have seen some of the previews and I don't think it is going to be better but we shall see. She did a great job on the talk shows, she seems to be maturing alot.