Do you like milk?

United States
December 14, 2006 12:09pm CST
I love to drink milk, I could go through a gallon a day if my mom or boyfriend would let me! :) I like skim milk but my fiance likes whole milk, so we usually just compromise if we're getting a gallon, or we get two 1/2 gallons (one for him, one for me). I like to drink milk out of the carton so I like to get the half gallons, my fiance won't let me drink milk out of the carton if we're sharing it b/c he says it breeds germs. Do you like milk, and what kind do you drink, skim, 2%, whole milk, or GOAT's milk??? Would you drink goat milk or soy milk?
4 responses


• United States
17 Jan 07
That's kind of what my fiance and I do but I drink a lot more than my fiance does. He eats it with cereal or drinks some after dinner but I'd go through a jug a day if I could! :)

• Costa Rica
14 Dec 06
yes i love milk. but it depends upon the taste of the milk. i drink 2 glass of milk everyday. 1 in the morning 1 before i sleep. Whole milk is the best hehe. Soy milk is better than goat milk. actually soy milk is better than whole milk. but soy milk is expensive right? soo ill stick with whole milk.

• United States
14 Dec 06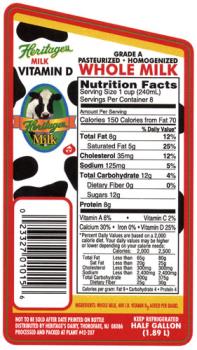 I don't really like whole milk b/c it has too many calories, 300 calories for 16 ounces (we get 16oz bottles at work) or 150 per 8 oz serving!

• Philippines
4 Oct 10
I really don't drink milk but sometimes if I feel like drinking something hot before I go to sleep, I choose milk other than chocolate drink or tea. I prefer coffee but I'll have problems sleeping with that one. Well they say it's good to have a glass of milk before bed but I really don't believe it. Hehehe..

• United States
21 Mar 09
With my family, there are four of us in the household, but I am the milk addict. Everyone else uses the milk for cooking or cereal, and it takes them a week to go through a gallon. Me, I am not a cereal eater, but I love to drink milk, especially chocolate. I can drink two gallons (sometimes three) a day by myself. Usually it takes me 30 minutes to drink a gallon, or if I come out of the gym, i can down one in as little as five minutes. They only found out because I usually hide the empty jugs until the next pickup and I forgot about one. They should have known because I am the biggest, strongest, heaviest person in the house. I can't exactly hide growing muscles because I am a weightlifter. At the grocery store, I end up buying so many at once, that even the cashiers wonder what I am going to do with the milk. No one believed me until some people watch me finish one off on the way to my car. I was even challenged to a milk drinking contest where I was able to drink 1.5 gallons and my opponent couldn't hold down a half gallon. I end up spending around $40 a week on milk alone. Right now, I am in not trying to break this habit as long as I lift weights