Respect and the young child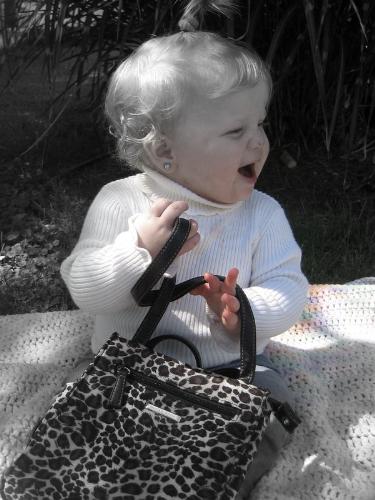 United States
December 15, 2006 9:51pm CST
My daughter is 19 months old. And, already she walks all over me. When I tell her no, she hardly ever listens to me, and I continue to tell her no and redirect, but thats not working anymore! She bites me, pinches me and screams at the top of her lungs right in my face. I really just dont know what to do! I refuse to spank her at this age, but have NO IDEA what else to do! Telling her no and redirection are getting me nowhere anymore! Please help me!
8 responses

• United States
16 Dec 06
I can totally sympathize with you. One of my children was one of "those" kids who was a holy terror. I, too, did not want to spank her. But by the time she was around 3 years old, I started giving back to her what she gave me. If she bit me, I bit her back. If she pinched me, I pinched her back. If she started screaming in my face, she was put in her room with the door closed. These things seemed to work better than any spanking would have. She learned that she was going to get what she gave, and pretty soon she stopped the physical stuff. The screaming was another thing but she did learn that she was going to be spending some alone time if she acted out like that. These may sound like desperate measures, but I WAS DESPERATE. Of course, I should add that I never HURT her in returning these acts but she DID feel them, and was quite shocked that I was responding that way. But it really only took a few weeks of that before she would start to bite me, and stop before she made contact. Same thing with the pinching. So she DID learn that way. The rest of my children never gave me those problems so she is the only one I had to resort to those tactics. I am not suggesting that you hurt your child, but you can do these things without causing pain to her. Just show her that this is not acceptable behaviour and that she will NOT enjoy the consequences of it. I do wish you all the luck in the world with this. It IS a very difficult situation to deal with.

• United States
16 Dec 06
Thank you for all of your advice. Although, right now, I cannot put her in her room with her door shut, because she doesnt have a room of her own....lol...she shares a room with me, and we have no b/r door....lol. And, yesterday I started to bite her back when she did it to me, and she then laughed and bit me again!!! What do I do then???


• United States
19 Dec 06
You have to do something that she understands and you cant reason with her. You are giving up control to a child who cannot reason. Be firm and dont accept that behavior. You cant accept her biting or pinching you must punish in someway each time or you will never be the parent you need to be

• United States
17 Dec 06
I totally sympathize with you, however I must advise that you tryly find a way to discipline your child. If it is already this bad, just think how bad it will be the older she gets. I am not putting your parenting down in any way so please do not take any offense to the advice I am giving you. I am simply trying to help you because I know this must be getting hard on you. First off, when your child is misbehaving in the manner you explained you must first give her a warning and tell her that if she doesn't stop you will either take the toy away, spank her, or send her to time out. The decision is up to the situation and to you. If she continues the misbehavior, then you absolutely MUST follow through with the warning. If you decide to put her in time out, remember that it should be one minute for every year of their age. In the situation of your daughter, I would do a minute and a half. When the time is up, go to her and remind her of why you put her in time out and that she needs to apologize to her. Remember to stand firm in your decision and not to "baby" her. Remember, you are doing this to help her realize how she must act in society as she gets older. And also so she knows she must respect her parents and family. Another thing I have learned is to not tell a child no. Children are curious by nature and the word no does not tell them the "why" they are looking for. You must show them what they should do instead of what they are doing. For example, if she is throwing a toy at people, go to her and show her what the toy is truly for and explain that it is not for throwing at people. Not that children are dumb, they just get distracted in having "fun" that they forget things and get carried away. After showing her what the toy is for, remember to warn her. "If you throw the toy again, mommy is going to take the toy away for the day and you will go to time out." If even after this the child continues, go to the child..DO NOT SAY ANYTHING to her, take the toy away, and put her in time out. Then walk away with not saying anything. Leave her there for the minute and a half..then continue with what I explained earlier. This is when you talk to her. And remember to follow through with the warning from earlier. Do not give the toy back to her until the next day. I know it seems rough, but it is our responsibility to get our children to understand what is acceptable behavior and what is not. I hope this helps you. Best wishes and good luck

• United States
17 Dec 06
It will only get worse if you don't put your foot down. I have a 10 year old daughter that treats me like dirt. I hate to always be a d*ck and yell and punish her but I have to, so I can teach her right from wrong. It's a cruel world out there.....kids need to learn the right way to behave or they will end up in some f'ed up situations that could be real problems.


• Australia
17 Dec 06
Ah the life of being a mom. You must get it under control now with consistency. Time out corners are great. Find a spot place her there for a few mins. Keep placing her back. They at that age like to push buttons and will only get worse. I use a corner that has no view of tv toys or anything. I wish you luck. It can get better. Mine did

• United States
16 Dec 06
according to that crazy nanny show you are to get down to their level and then be firm with her. They even say that your suppose to give them a time out. If she moves your to put her right back. I don't know if it will work but you can try it and see what happens. sorry I couldn't help more