I Love Pasta (Recipes)

United States
9 responses

• United States
20 Dec 06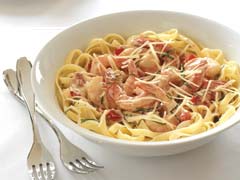 Shrimp Pasta for Two Prep Time: 20 min Total Time: 46 min Makes: 2 servings, 1-3/4 cups each 2 Tbsp. KRAFT Balsamic Vinaigrette Dressing 1/2 lb. shrimp, cleaned (about 10 large) 3/4 cup chopped tomatoes (about 1 medium) 2 oz. (1/4 of 8-oz. pkg.) PHILADELPHIA Cream Cheese, cubed 2 Tbsp. chopped fresh basil leaves, divided 1/4 lb. (4 oz.) fettuccine, cooked, drained 2 Tbsp. KRAFT Shredded Parmesan, Romano, and Asiago Cheeses POUR dressing over shrimp in small bowl; cover. Refrigerate 20 min. to marinate. Remove shrimp from marinade; set aside. Heat large skillet on medium heat; add shrimp. Cook 3 min. or until shrimp turn pink, stirring frequently. Remove shrimp from skillet, using slotted spoon; cover to keep warm. Set aside. ADD tomatoes, reserved marinade, cream cheese and 1 Tbsp. of the basil to same skillet; cook and stir 3 min. until well blended. Add shrimp; cook until heated through, stirring occasionally. PLACE hot fettuccine on large serving platter; top with the shrimp mixture. Sprinkle with remaining 1 Tbsp. basil and the shredded cheese. Substitute: Use 1/2 lb. frozen shrimp, defrosted, if desired. How to Sauce It Up If you prefer it saucier, stir a small amount of milk into the shrimp mixture.


• Philippines
20 Dec 06
This one's a personal favorite: Tuna Casserole 3 cans tuna chunks in oil (I usually go for a spicy brand) 1 can all-purpose cream 1 can cream of mushroom 1 can mushrooms 1 egg a little milk to taste spices (onions and garlic) pasta (I use lingguini or fettuccini) grated cheese Prepare pasta according to package directions. Set aside to cool. In a large pan, saute onions and garlic until aroma comes out. Put tuna (drained of its oil) in the pan and gently stir. Saute tuna until cooked. Add all-purpose cream and cream of mushroom. Add an egg (just break it over the pan) and a little milk to taste. Stir until you achieve a thick, even mixture. Pour mixture over the pasta. Add grated cheese on top. Enjoy! :-)

• United States
20 Dec 06
Here a few i like to cook enjoy Spagetti Bake 8 oz. spaghetti 1/2 lb. Hamburger meat 1 jar spaghetti sauce 1 egg lightly beaten 1-1/2 cups Shredded Cheese ant kind i like to use cloby & monteray jack cheese Cook on 375°F. Spray baking dish with cooking spray Cook spaghetti as directed on package. brown the Meat in medium skillet then drain. Stir in sauce. Reduce heat to low; simmer 5 minutes, stirring occasionally. DRAIN spaghetti place in large bowl. Add the egg, 1 cup of the cheese mix all ingredients together and Place in the baking dish. Sprinkle with remaining 1 cup mozzarella cheese and let it melt after you bake it. BAKE about 15 minutes.

• United States
22 Dec 06
I love Pasta too but I also love seafood and this is a great receipe if you love both: (You could probably sub smoked turkey or ham if you don't like seafood) 12 oz tagliatelle 4 tablespoons butter cut up 2/3 cup cream 8 ounces smoked salmon cut up 1 sm buch arugula chopped Lot's of pepper & maybe a little salt Cook pasta according to directions. Put a large bowl into a larger pan of simmering water (double boiler style) Put the butter & cream into the bowl and swish it around until the butter melts. Add the other ingredients and that's it....This is so rich and wonderful. It tastes best served with a vinagriette dressed green salad.

• United States
20 Dec 06
This is a great family favorite. Makes my mouth water just to read the recipe, lol. CHEESE MANICOTTI 1/4 cup chopped onion 1 clove garlic, crushed 2 Tbsp olive oil 1 (16 oz) can tomatoes, finely cut up 1 (8 oz) can tomato sauce 1/3 cup water 1 tsp. sugar 1 tsp. dried oregano leaves, crushed 1/4 tsp. dried thyme leaves, crushed 1/4 tsp. salt 1 small bay leaf * * * 12 manicotti shells 2 beaten eggs 12 ounces fresh ricotta cheese (1-1/2 cups) 1 (8 oz) pkg. shredded mozzarella cheese 1/2 cup fresh grated Parmesan cheese 1/4 cup snipped parsley 1/4 tsp. salt Dash pepper In a 2-qt saucepan cook onion and garlic in olive oil till tender but not browned. Add tomatoes, tomato sauce, water, sugar, oregano, thyme, the first 1/4 tsp. salt, and bay leaf. Bring to boiling; simmer, uncovered, for 45 minutes. Remove bay leaf. Meanwhile, cook manicotti shells in boiling, salted water just till tender; drain. (DO NOT OVERCOOK) Rinse shells in cold water. Combine eggs, ricotta cheese, half of the mozzarella, Parmesan cheese, parsley, 1/4 tsp. salt, and pepper. Spoon cheese mixture into manicotti shells. Pour about half of the tomato mixture into a 13x9x2-inch baking dish. Arrange stuffed shells in baking dish. Pour sauce over shells. Sprinkle remaining mozzarella cheese over top. Cover with foil and refrigerate up to 24 hours. Before serving: Bake manicotti, covered, at 350~F till hot and bubbly, about 45 minutes. Makes 6-8 servings. Hope you enjoy.

• Philippines
28 Apr 07
Mom's Baked Macaroni and Cheese SUBMITTED BY: Courtnay "Quick and easy -- macaroni, cheese soup, milk and Colby cheese!" INGREDIENTS 1 (16 ounce) package macaroni 1 (10.75 ounce) can condensed Cheddar cheese soup 1 cup milk 1 pound shredded Colby cheese DIRECTIONS Preheat oven to 350 degrees F (175 degrees C). Bring a large pot of lightly salted water to a boil. Add pasta and cook for 8 to 10 minutes or until al dente; drain. Place macaroni in a 2 quart casserole dish. Stir in cheese soup and milk until well combined. Sprinkle with shredded Colby. Bake 25 to 30 minutes, or until cheese is brown and bubbly. Haddock Marinara SUBMITTED BY: KRISTIMOO1 "This was my mother's finest fish meal growing up. Even people we know who aren't fish fanatics love this dish. It can be served with rice but we love it with linguine." INGREDIENTS 2 tablespoons extra virgin olive oil 1/2 white onion, finely chopped 3 cloves garlic, minced 1 (16 ounce) jar pasta sauce 1 pound haddock fillets 1 (14 ounce) can stewed tomatoes, drained 3/4 cup shredded mozzarella cheese DIRECTIONS Preheat oven to 350 degrees F (175 degrees C). Coat the bottom of a baking dish with the olive oil. Sprinkle 1/2 the onion and garlic evenly in the baking dish, and cover with 1/2 the pasta sauce. Place the haddock fillets in the dish, top with tomatoes and remaining onion and garlic. Cover with remaining pasta sauce. Bake 20 minutes in the preheated oven. Top with mozzarella cheese, and continue baking 10 minutes, until cheese is melted and fish is easily flaked with a fork.