Where in Sweden?

United Kingdom
December 21, 2006 5:14am CST
I've always wanted to go to Sweden, but I've heard it is very very expensive, have you been there or do you live there? Where is the best place to go and stay to appreciate Sweden the most.
5 responses

• India
21 Dec 06
Yes. sweden isbeautiful and expensive.

•
28 May 07
Sweden and Norway both look like nice places to visit, but as you say I've heard comments that they are expensive too. However, you could probably make up the cost of visiting by reducing the travel costs, I am almost certain the Ryanair fly from Stansted, probably to some far out airport, or you could try Blue 1 which is a low cost offshoot of the national carrier SAS, again from Stansted. In terms of where to stay, you'll nearly always find centre of town places are more expensive. Recently I've done a few trips to Ireland, I stay at the airport hotels, and we hire a car, it means I can stay in a new 4 star hotel with breakfast for less than staying in town. Luckily the airports aren't far from centre of town. Alternatively, check out Trip Advisor dot com and type in Sweden hotels they'll give candid views and pictures of other peoples experiences. Personally I prefer to stay in a nice hotel as it is all part of the experience. As for what to see in Sweden, can't really offer advice on that, but I would go for the landscapes and architecture. In the capital you'll always find museums and art galleries etc as well.



•
7 Feb 07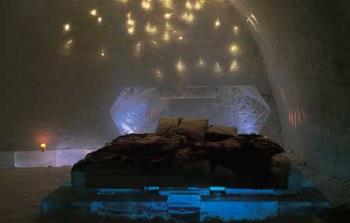 I have always wanted to go to sweeden ever since ABBA won the eurovision song contest. smiles Did you know that February 18, 2007, marks the 30th anniversary of the single release of "Knowing Me, Knowing You"? 30 years ago!! If I ever got the chance I would love to go to the Icehotel in sweeden.It costs about £800 for three nights! Fly into Kiruna airport at twilight. Then travel by dogsled through a landscape so crisp and white, toward the small village of Jukkasjärvi. http://www.arctic-experience.co.uk/tour22w/ Check-in at the absolutely incredible Ice Hotel. Its said to be amazing, Double rooms and suites constructed entirely of ice, an ice lobby, a chamber of ice pillars and the famous Icebar, where you can order any drink you like, on the rocks of course. Everything is said to have a bluish sheen, as though you were staying in a glacier that had just been calved. I think it would be amazing to stay in an Ice Hotel. A frozen dream, a one once-in-a-lifetime hotel. What about the beds? They are made of ice too of course, but the chill doesn't get through to you, thanks to a bed base comprising wooden slats, a mattress and a thick reindeer skin. You are said to feel surprisingly warm, maybe because of the down-filled sleeping bag or maybe because you sleep wearing a fur hat as well. . lol Then to go on a snowmobile safari to the pastures where moose graze in the winter. Just amazing! And then to go on to Cruising on the outstanding Baltic sea http://www.visitsweden.com/VSTemplates/Article____21130.aspx would be just so wonderful.. Now where can I buy a winning lotto ticket?? Dog sledding http://www.visitsweden.com/VSTemplates/Page____9622.aspx