Ants - None toxic pesticide

Australia
3 responses

• United States
23 Dec 06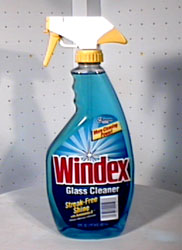 I've heard Windex works! I'm not sure it actually does, but it's worth a try, yeah? Dunno if you have Windex there, though. Window cleaner stuff. I hate ants! Good luck with that!

• United States
25 Dec 06
Did they mention it in My Big Fat Greek Wedding?? I've only seen it once, so I don't remember. In fact, I don't remember much about that movie at all. Hmmm...

• Australia
26 Dec 06
Yes spot on girl. I think it was used to help ease a burn on the arm, perhaps I should try it?, although I was once told that if your in a paddock and a bull charges at you the best thing to do is lay down infront of it just before it reaches you and it will jump over you....Yeh right.


• India
27 Dec 06
Try Turmeric powder it really works but a little messy.

• United States
27 Dec 06
Prespot from Melaleuca is supposed to kill ants... I haven't tried it yet, but we gets ants in the spring and I'll know for sure then...