Christmas toys and what you have to go through to get them out the box!

United States
December 25, 2006 10:23pm CST
Ok, for those of you that have small kids like me, how many of you had to go through almost breaking the toy trying to get it out of the box this morning? My kids got some bratz dolls and they have those things all binded down in the box with those plastic twisty tie things all over the place. This morning was real rough. Who experienced that this morning?
6 responses

• India
10 Jan 07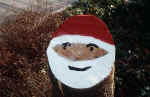 i enjoy christmas Alleged representation of Christ in the form of the sun-god Helios or Sol Invictus riding in his chariot. Third century mosaic of the Vatican grottoes under St. Peter's Basilica on the ceiling of the tomb of the Julii.

•
29 Dec 06
I know exactly what you mean. My daughter had a couple of Bratz dolls, and even the hair was sewn into a piece of cardboard. Maybe the dolls are alive when they are first put into the boxes and the packaging is meant to stop them escaping!! And cars and trucks are fastened down so they cannot drive them in a bid to escape. If these things were not secured properly it would be like the film "Toy Soldiers" on Christmas eve!!! And what is even worse, it takes ages to wrap the boxes because of all the wierd shapes! It should be made law that all products come in easy to wrap square or rectangular boxes. Come on - how the hell are you supposed to wrap a cone???

• Australia
26 Dec 06
LOL - I had this conversation with my sister as we were trying to unscrew what appeared to be totally irrelvant screw tab thingies attached to the bottom of a toy - I was almost wishing for the twisty tie things - even now a day after Christmas and I'm sill wondering whether I should have taken the tab thing off and then put the screws back in :) I have no idea why they're packaged that way - unless it's to drive parents mad as they quickly try and open the toy all the while having an impatient child jumping up and down wanting their toy now.


• United States
26 Dec 06
Those dolls should have stayed in that box and been burned up in the factory they were made in. I hate those Bratz dolls, they look like ho's with their big suck me lips and sleazy clothes. I really hope kids stop dressing like that, I hate seeing 8 year old dressed like they're ready for work at the tittie bar. Sorry you had a hard time, but those dolls are bad for young girls.

• United States
26 Dec 06
I was also reminded of all the little ties and pieces to get apart when you take a toy out of the box. There is so much packaging with all the toys that it's a shame that I have to toss out all the plastic and cardboard. It serioulsly takes some patience to undo all those twisty ties on the Barbies and Bratz dolls!lol