What to expect?

Canada
December 30, 2006 6:02am CST
When a person has mild scholiosis, but is in pain all the time, doesn't take any medications for it because they have found out that all the pills do is relieve the momentary pain, and no long term effects, and don't help any future changes, What should they expect in the future with this desease? is there a possibility of being stuck in a wheelchair for the rest of their lives? or worse? Will the pain get better? Etc... All stories are welcome.
8 responses

• United States
1 Jan 07
I have worked in the medical field for a company that provides equipment and bracing. Sometimes bracing is necessary to provide support to the back and lessen the chances of scolosis worsening. You should discuss this with a specialist.

• Canada
4 Jan 07
Thanx, I use a back brace (Kidney belt) sometimes, and it helps a lot, but i don't want my back getting into the habit of it because of the fact that it weakens the strength in your muscles and teaches them they don't have to work anymore.

• Philippines
11 Jan 07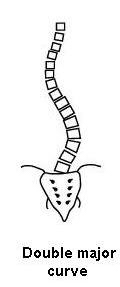 When I was 14 my aunt noticed a curve in my spine while she massaged my back, she told this to my mom but she dismissed the thought that I have scoliosis. We have lots of money then so it will not be difficult for me to see a doctor. Two years after I noticed that my right shoulder always aches when I write or type on the computer for a long time, my boyfriend got concerned and accopmanied me to a doctor. The doctor told me that I should have my back x-ray, we went to the xray and I was so amazed to see that my spine is S-shaped. The doctor saw the xray and recommended that I continue swimming to help ease out the aches, I also went to chiropractors regularly. I only stopped when I got pregnant, it's been 2 years now but I haven't gone back to the doctor to have my spine checked. I do pilates at least 2x a week and a little weight training, I notice that when I don't exercise my back really hurts, I'm also wearing a soft back support that helps me maintain good posture. My husband have medical benefit from the company which includes free check-up & treatment for scoliosis, I'll take advantage of that.

• United States
13 Feb 07
I have a mild thoracic curve. I don't remember what the degree was but they were thinking of putting me in a brace but decided against it. I've never had much pain and I don't need to limit my activities because of it. The only problem I think I have from it is my shoulder blade being pushed over and sometimes it hurts my shoulder if I move it a certain way. Oh yeah and I feel self conscience when my back is showing.

• Philippines
13 Feb 07
I'm suffering from a sort of scoliosis but I can't afford to buy things for my medication. I just do light exercises and endure pain sometimes. I have heard others underwent the necessary operation. I see many who are suffering from this disease and they survive although pain is inevitable. I hope mine would not worsen to the extent of suffering much pain.

• United States
13 Feb 07
I also had severe scoliosis, had a brace, then surgery to prevent my spine from pressing into my heart. I've found that the worst pain is when I'm more heavy, which was hard obviously when I was pregnant. I think it has made me a stronger person, I do have pain if I'm tired, cold, or don't sleep in a good position-but it is manageable.

• United States
25 Jan 07
I was diagnosed with minor scoliosis my sophmore year of high school during varsity cross country season. At the time I was running upwards of 16 miles a day and doing a lot of lifting. One afternoon while running down the backside of a rocky ridge, I twisted my ankle and felt a jolt run up into my lower back, then upper back and neck. I could barely move for weeks and was seeing a chiropractor and therapist almost daily. Now, almost six years later I've found that staying active, but taking it VERY easy, has afforded me the most relief. I run 3-4 miles on soft dirt about three times a week and do pilates for core strength and posture.

• United States
14 Jan 07
I was diagnosed with scoliosis when I was 10, wore a brace for a few years and it got worse. Had surgery when I was 13, they put a 12" rod in my back!! My curvature was really bad, can't remember the degrees. Anyway, I am 43 and no problems (knock on wood). I had 2 children naturally in my late 20's, no problems. I am overweight now and trying to lose because I notice lower back pain when I get out of bed in the morning...I'm sure the weight aggravates it. Just wanted to share my story. YEARS ago when I was diagnosed surgery and treaments were very differnet that what they probably do today. I used to worry I would en dup in a wheelchair and so far, I have had a very normal life. I would see a doc if you are constantly in pain though.

• Philippines
4 Jan 07
I have scoliosis, I'm unsure though on how much the degrees of the curve is. As for exercise I try to do Pilates everyday and swim once a week. Stretching my back helps ease the pain.