Saddam Fans .....

United States
December 30, 2006 8:35pm CST
I am so tired of all these discussions but one thing has come to my attention. So many of our non American members are really showing their true feelings about the USA and all we stand for. Why do they want to participate in an American website feeling the way they do?
4 responses


• United States
31 Dec 06
I wondered about that too. I don't know anything about this site. It just seems to sprung up out of nowhere....Hope it's not a case of what we don't know won't hurt us (LOL)

• South Africa
31 Dec 06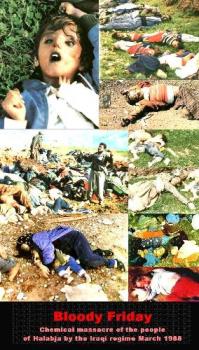 Good question indeed. I really can't understand the ambivalent reaction towards Saddam and his execution. He was a dictator and a brutal one at that. For example, the chemical attack on Halabja 1988 -- just one of 40 targeted at Iraq's own people -- provided a glimpse of the crimes Saddam Hussein was willing to commit, and the kind of threat he presented to the entire world. He was among history's cruelest dictators, and he armed himself with the world's most terrible weapons. For this otrosity alone he deserved do be executed, look at the graphic picture attached, it will make your stomach turn!


• United States
31 Dec 06
Good point. Wonder if they're drinking coke and wearing blue jeans while they type into Microsoft Windows how much they hate us. Isn't it a bit like watching those creeps in OUR airplanes that they learned to pilot in OUR flight schools bomb the World Trade Center?