which shampoo do you use?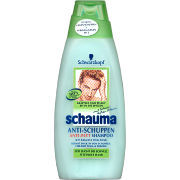 Romania
January 2, 2007 8:17am CST
i wash my hair with Schauma cause it's the only shampoo that doesn't hurts my hair and cleans it very good.u?
5 responses


• India
2 Jan 07
since ma hair r vry oily i use loreal sebo control n repair treatment conditioner

• United States
9 Jun 07
Actually I use three different kinds. Once a week I use neutrogena hair clarifying. Then every other day I use Pantene ProV mouisterizing. Then the opposite day I use infusium.


• Romania
1 Feb 07
Shampoo is a common hair care product used for the removal of oils, dirt, skin particles, environmental pollutants and other contaminant particles that gradually build up in hair. The goal is to remove the unwanted build-up without stripping out so much as to make hair unmanageable. Shampoo, when lathered with water, is a surfactant, which, while cleaning the hair and scalp, can remove the natural oils (sebum) which lubricate the hair shaft. Shampooing is frequently followed by conditioners which increase the ease of combing and styling. The word shampoo in English usage dates back to 1762, with the meaning "to massage". The word was a loan from Anglo-Indian shampoo, in turn from Hindi champo (????? /t?ã?po?/), imperative of champna (?????? /t?ã?pna?/), "to smear, knead the muscles, massage". It itself comes from Sanskrit/Hindi word "champa" (????? /t??mpa?/), the flowers of the plant Michelia champaca which have traditionally been used to make fragrant hair-oil. The term and service was introduced by a Sake Dean Mahomed, who opened a shampooing bath known as Mahomed's Indian Vapour Baths in Brighton in 1759. His baths were like Turkish baths where clients received an Indian treatment of champi (shampooing) or therapeutic massage. His service was appreciated; he received the high accolade of being appointed 'Shampooing Surgeon' to both George IV and William IV. During the early stages of shampoo, English hair stylists boiled shaved soap in water and added herbs to give the hair shine and fragrance. Kasey Hebert was the first known maker of shampoo, and the origin is currently attributed to him. Originally, soap and shampoo were very similar products; both containing surfactants, a type of detergent. Modern shampoo as it is known today was first introduced in the 1930s with Drene, the first synthetic (non-soap) shampoo.[1] From ancient times to this day, Indians have been using different formulations of shampoos using herbs like neem, shikakai or soapnut, henna, bael, brahmi , fenugreek, buttermilk, amla, aloe, and almond in combination with some aromatic components like sandalwood, jasmine, turmeric, rose, and musk. Shampoo cleans by stripping sebum from the hair. Sebum is an oil secreted by hair follicles that is readily absorbed by the strands of hair, and forms a protective layer. Sebum protects the protein structure of hair from damage, but this protection comes as a cost: it tends to collect dirt, styling products and scalp flakes. Surfactants strip the sebum from the hair shafts and thereby remove the dirt attached to it. While both soaps and shampoos contain surfactants, soap bonds to oils with such affinity that it removes too much if used on hair. Shampoo uses a different class of surfactants balanced to avoid removing too much oil from the hair. The chemical mechanisms that underlie hair cleansing are similar to that of traditional soap. Undamaged hair has a hydrophobic surface to which skin lipids such as sebum stick, but water is initially repelled. The lipids do not come off easily when the hair is rinsed with plain water. Shampoo applied to wet hair is absorbed into the oil/hair interfaces. The anionic surfactants substantially reduce the interfacial surface tension and allow for the removal of the sebum from the hair shaft. The non-polar oily materials on the hair shaft are solubilised into the surfactant micelle structures of the shampoo and are removed during rinsing. There is also considerable removal through a surfactant and oil "roll up" effect. Shampoo formulations seek to maximize the following qualities: * Easy rinsing * Good finish after washing hair * Minimal skin/eye irritation * No damage to hair * Feels thick and/or creamy * Pleasant fragrance * Low toxicity * Good biodegradability * slightly acidic pH, since a basic environment weakens the hair by breaking the disulfide bonds in hair keratin. Many shampoos are pearlescent. This effect is achieved by addition of tiny flakes of suitable materials, eg. glycol distearate (a wax).