How do I steam open an envelope?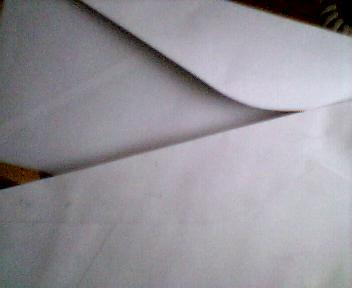 United States
January 4, 2007 10:40pm CST
I need to open this envelope that is signed on the back where it is sealed and close it again. I need to open and close it where it will look like it was never opened. Yes I am a terrable person doing awful things. I'm just kidding this is all on the up and up and the envelope belongs to me. Seems like I remember doing it years ago and it steamed right open no problem. But I can't remember if I got it back together good or not. Any of you done it? Or do you know of a better way to open it? Just need a t-niny peek inside.
6 responses

• United States
5 Jan 07
i never steamed one open, but i did freeze one and got it open without any tears

• United States
6 Jan 07
I have never heard of freezing one! I am gonna have to try that! Thanks! Oh..does that only work on the lick and seal envelopes or does it work on the seal adhesive one also? I think that might be a factor in steaming or freezing. hmmm I'll have to try different envelopes. :) Practicing my skills just in case I ever need them, right? hahahahaha


• Canada
5 Jan 07
I've never had to steam open an envelope but I looked up how to open it online..I can summarize what I've found for you. 1)Turn on your stove. Put on a pot of water. You don't need a whole lot of water, but not too little water either. 2)Wait for the water to come to a boil. 3)Hold the flap-side down envelope over the boiling water and seek a spot where you can place your thumb underneath the flap. An ideal spot is at the end , as some envelopes don't have glue there. 4) Apply constant pressure on the flap (lightly though as you don't want to tear the paper). 5) When the steam finally saturates the envelope , the glue will melt, and the envelope should open. 6) To reseal the envelope, wait while it dries and lick as u normally would. I hope I've been of some help. You can visit the source for more information: Source: http://www.wikihow.com/Steam-Open-an-Envelope

• United States
6 Feb 07
goodness, you went to a lot of trouble for me, I appreciate this very much!

• Canada
5 Jan 07
Hey no explanations needed here LOL It should steam open if you pass the seal back and forth over a boiling kettle. I was able to do that once when I forgot to put a check into an envelope that I had already sealed... and I was too cheap to waste the stamp! lol You'll have to glue or tape it shut again though.

• United States
5 Feb 07
You might need to be careful. The steam will probably get the envelope open, but the steam may make the ink bleed on the signature. It can also make the paper sort of curl, so it might not look like it hasn't been tampered with...

• United States
6 Jan 07
I have steamed open a envelope before using a kettle. I just had to put up with it whistling for a while. LOL But be sure to not let it get too wet from the steam because then it will look like it has been tampered with by the warping of the moisture. Also, open it slowly. If it is not letting go in areas, be sure to place it back over the steam. I did it just for the fun of trying it. But I can't help but be curious about what yours is...if it is for you, then it guess you are not supposed to open it before a certain time. Would the person that gave it to you really know that you opened it? Could you be spoiling a surprise? Just be sure that you want to open it...because you could be breaking a person's trust if you do not wait.

• United States
6 Feb 07
good food for thought! since its you I will tell........ My daughter is filling out college applications and has had to include with them letter of recommendation. One of the letters in particular was from a very prestigious professor and we were dying to see what he wrote about her!!