Are you a sockmonkey hater?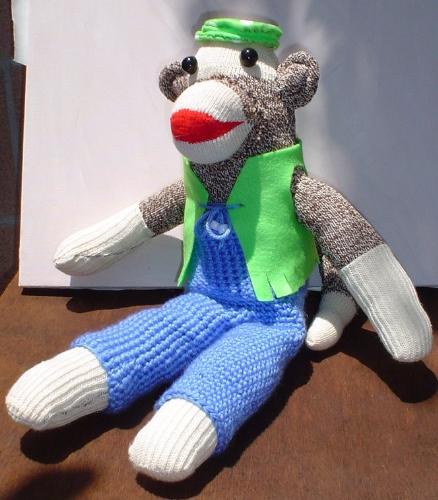 United States
January 7, 2007 3:10pm CST
I couldn't figure out why my manager at work was dragging her feet with making the storyboard for the crochet class. So yesterday she dumped all my items on a table, and we sorted it into knitting, crochet, and other piles. I handed her the sockmonkey for the crochet pile because he has a crocheted outfit, and she wouldn't touch it. She said, "That is so ugly, I can't bear to display it." That isn't the first time I've run into that opinion. My boyfriend thinks they are scary. Pouts. Don't be a hater! That sock monkey has been all over the internet and many people have told me how adorable they think he is. Can't please everyone I guess.
7 responses

• Canada
13 Feb 07
I LOVE SOCK MONKEYS!!! they are one of my most favorite things on the planet. I even have a sock monkey for my Blythe doll.

• United States
12 Feb 07
I honestly didn't know anyone was still out there making these. With all the mass produced stuffed toys out available; I thought the sockmonkey had gone the way of the dodo. Whether they are "cute" or ugly depends on the "eye of the beholder" and the person's skill that made it.

• United States
12 Feb 07
I think they're funny, weird, and a bit ugly, but my kids have them, my mom makes them and I have a site dedicated to them! Check it out at: http://www.squidoo.com/sockmonkeycentral/ It's a new site. I'm still working on. Soon it will have even more links, sock monkey history, and more. :)

• United States
8 Jan 07
I love the sock monkeys. They are very cute. My grandmother used to make them .

• United States
7 Jan 07
I love sockmonkeys, my gf has pj pants with a sockmonkey pattern on them, I think they're adorable! I'd like to make one some time,lol.