A family Collage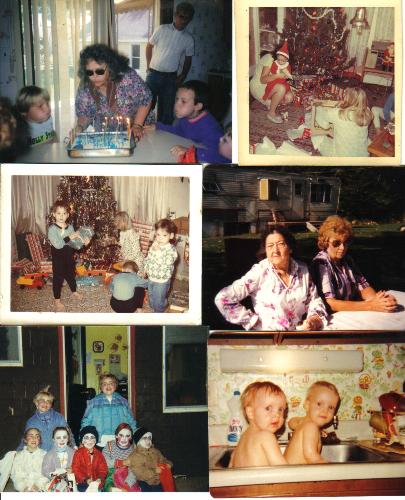 United States
January 10, 2007 11:48am CST
Here is a collage of some of the many pictures I have taken over the years. I love to look back and reflect on a more simpler time. The faces of joy. The faces that bring us loving memories. In the upper left picture, my son and nephew help my mother blow our the candles on her birthday cake. In the upper right is my mother holding my sister and that is the back of me unwrapping a gift. Under the pic of my mother is one taken that I recall the best Christmas. Next to that on the right is a picture of my Grandma Lizzie and her cousin. Under my picture of my favorite childhood Christmas is a picture of my children and their cousins decked out for Halloween. The one on the right is a picture of my twin sons taking a bath in the kitchen sink.
5 responses

• United States
12 Jan 07
This is really lovely. I hope it will be passed down generation to generation. I do not have happy memories, so I could not do something like that. But, I really do admire you and know that you are very blessed.

• United States
13 Jan 07
Thank you Margieanne. All of my memories were not all good, but I try to focus on the ones that were. They bring me joy.

• United States
15 Feb 07
Thanks for the best response again honey.


• United States
13 Jan 07
I love the pics too. I have to go digging through my collections and start albums for the kids. The collage is a great way to do it.

• United States
12 Jan 07
That was very nice. Thank you for sharing it. I have tons of old pictures that I sometimes like to just sit and look through. And think about the past and all the good memories. Especially when things aren't going so good, it kind of picks you up.

• United States
13 Jan 07
I love to go through my old pictures. I have tons of them. Many got water damaged while in storaged. It broke my heart.

• United States
10 Jan 07
These have many happy memories in them. I think everyone has them, and should cherish them forever as you have. Nothing can replace the good ol days when your children were still under your wing.

• United States
15 Feb 07
MY parents took almost no pictures of us when we were kids...maybe a total of 20 of them. So I have only one of myself from before school time. Then they tossed the annual school pictures when the replacement came in each year. I am starting a scrapbook for my son, he is in the Navy and I have been going through his stuff in his room, cleaning and collecting. It is such fun, he saved his hospital bracelet from his '1st hockey injury'. I think I will give it to him for a wedding present when he gets married. He has no idea I am doing it. I bought him a digital camera for Christmas, so he will have a lot of Navy memories in his scrapbook. I figure once he gets married, I will start another clandestine scrapbook to pass on at the appropriate time.

• United States
15 Feb 07
I tried adding his picture before..I will try again