Corset Training/Waist Cinching

United States
January 10, 2007 3:49pm CST
Wow, I can't believe women would put themselves through this. Check out the pictures on http://www.candsconstructions.com to see what I am talking about. Some of the waists on there are almost non-existent. I have heard that corset training is really bad for your abs, they'll have no strength left in them. If that's true, then that's a bad thing because your abs are the core of your body and without strong abs you'll have back problems and other difficulties.
3 responses

• United States
23 Jan 07
I can't believe that there are women who still torture their bodies to obtain that hourglass figure. They are obsessed with the Scarlet Ohara look.

• United States
11 Jan 07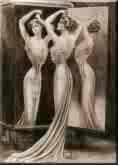 Well I suppose then that with no ab muscles left and weak back you would be stuck in that corset!! I cannot imaging living every day with something that made you short of breath. No wonder they had fainting sofas.. They couldn't stay consious.

• United States
12 Jan 07
I know! Can you imagine living in the deep South with all that heat and humidity and being strangled by a corset? I'm so glad we live in modern times where there's air conditioning and sweatpants for when we're feeling puffy.