JFK Any conspiracy theories?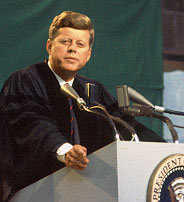 United States
January 15, 2007 12:40am CST
Presidnt John Fitzgeral Kennedy shot and killed November 22, 1963. There are many conspiracy theories surrounding his death. What do you believe.. If you don't know or would like to learn more, the good place I've found is this. John F. Kennedy www.whitehouse.gov/history/presidents/jfk35.html Conspiracy Theories http://www.stayfreemagazine.org/4/jfk.htm
1 response

• United States
27 Jan 07
I'm not sure, but I doubt that Lee Harvey Oswald did it. I also don't think anyone was on the grassy knoll though. We had to do a project in history class where we recreated different theories. I used splash balls as bullets hitting people (relatives) at different angles to see which way they were thrown. A better example was seen in someone who used watermelons. My relatives probably would have preferred I didn't use them. :)

• United States
29 Jan 07
That sounds like a fun history class. I like it when teachers make learning fun.

• United States
20 Feb 07
Has anyone seen the new enhanced video? I missed it the other day on the news.