HELP!.. I'm having a diarrhea...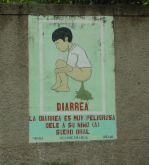 United Arab Emirates
January 15, 2007 12:18pm CST
Please could anyone tell me what will I do? I got diarrhea since I wake up this morning. My stomach really hurts me. I don't know if it's because of the peanuts that I ate last night. What's worse is my husband also suffers the same since the other day. I pity him more cause he runs to the bathroom for like 6 times already, even in the early dawn today. We drink this "Prolyte" oral rehydration salts-citrate ip, and yet I still runs to the bathroom and liquids keep pouring out. I never had diarrhea for such a long time.
1 response

• Indonesia
9 Feb 07
I have too, I already asked this question too in myLot. There is a reply that said eat imodium. But my mom gave me motilium and new diatabes, and then drink salt water. Well I guess you can try my mom's advice

• United Arab Emirates
11 Feb 07
thank you morsh. I'll keep those in mind "imodium", "motilium", new diatabes and salt water. It will come handy when I'll get diarrhea next time.